DIY Guest Bathroom Renovation For Under $2,000 – Before & After Photos And Cost Breakdown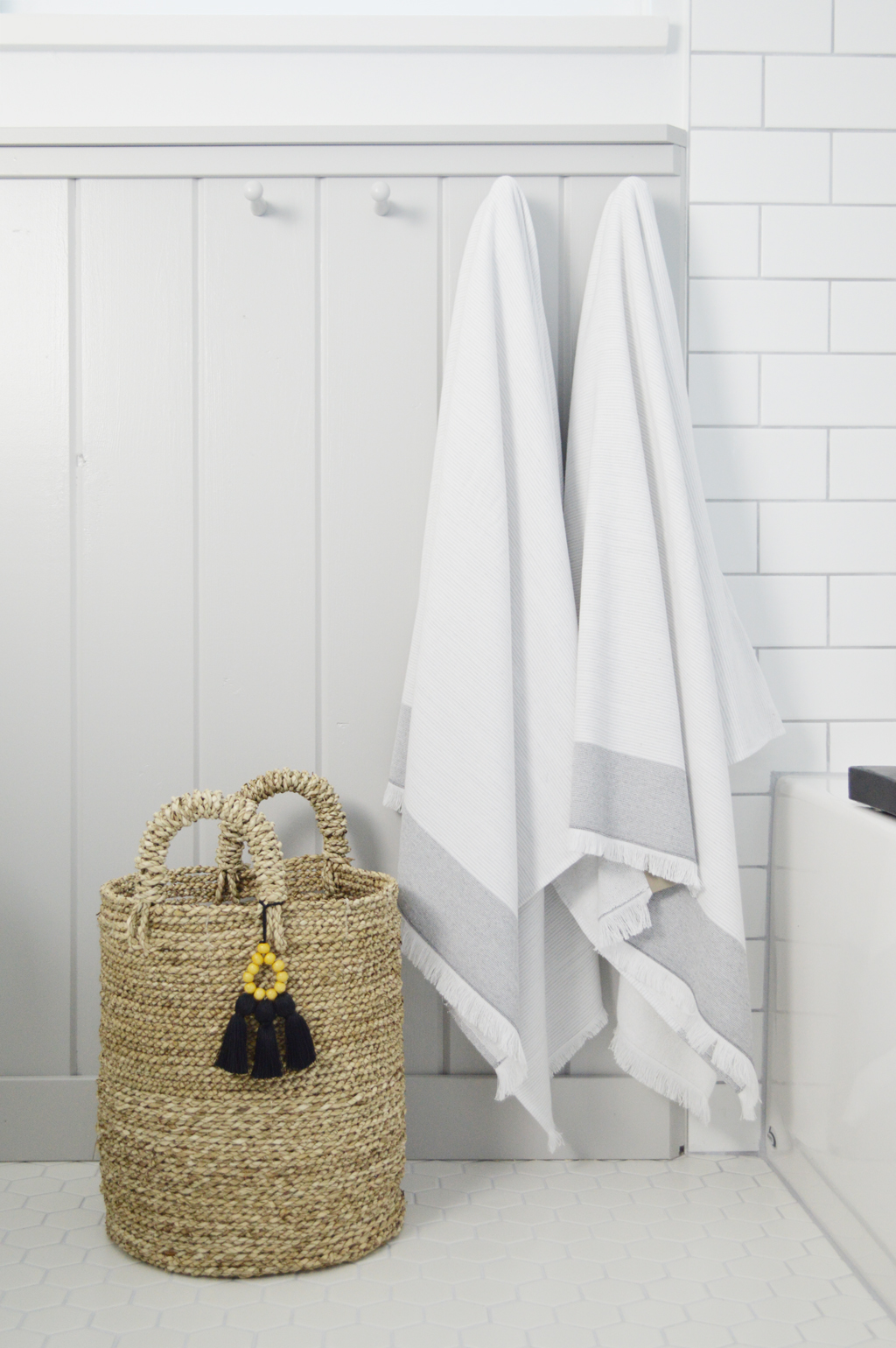 .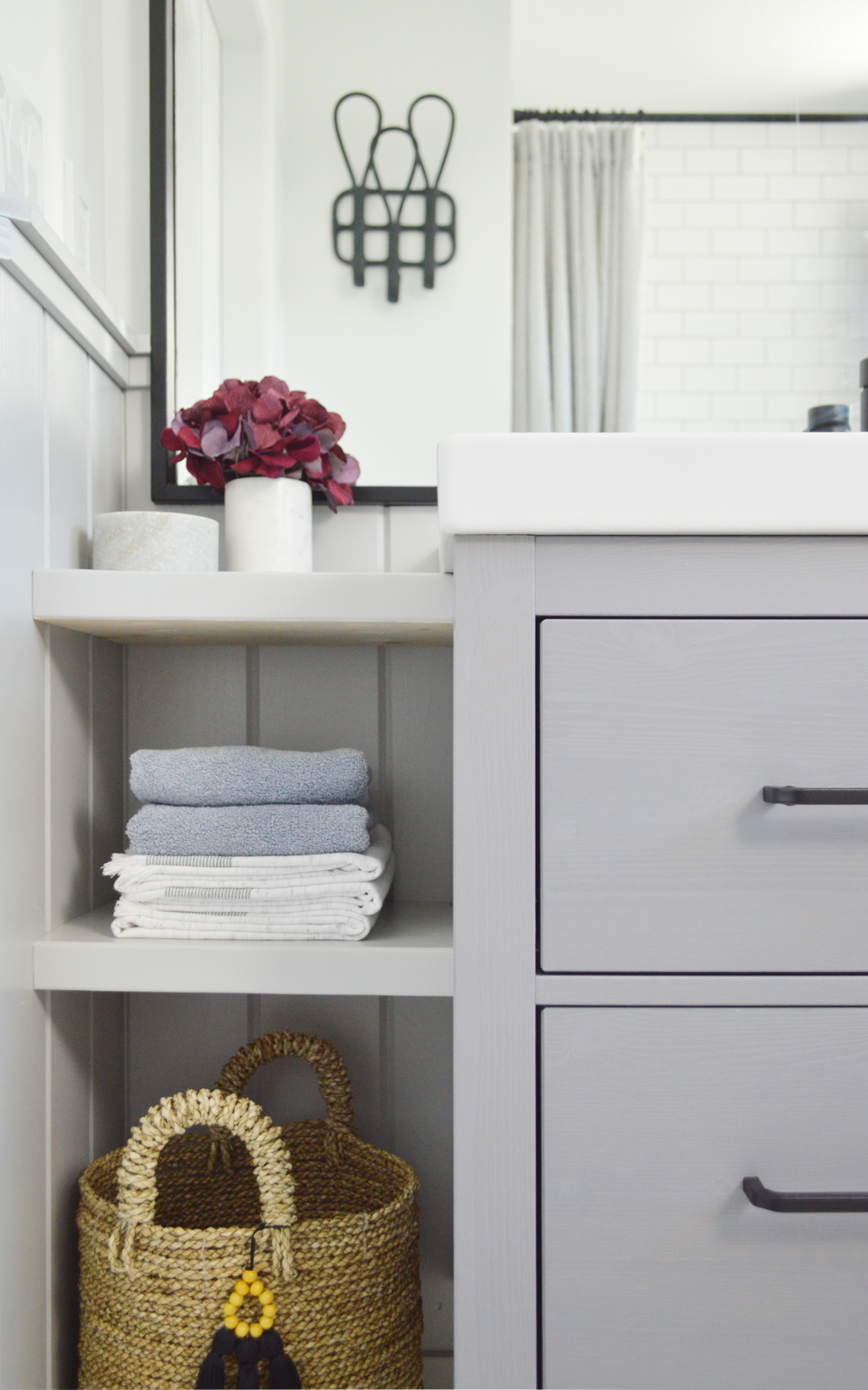 .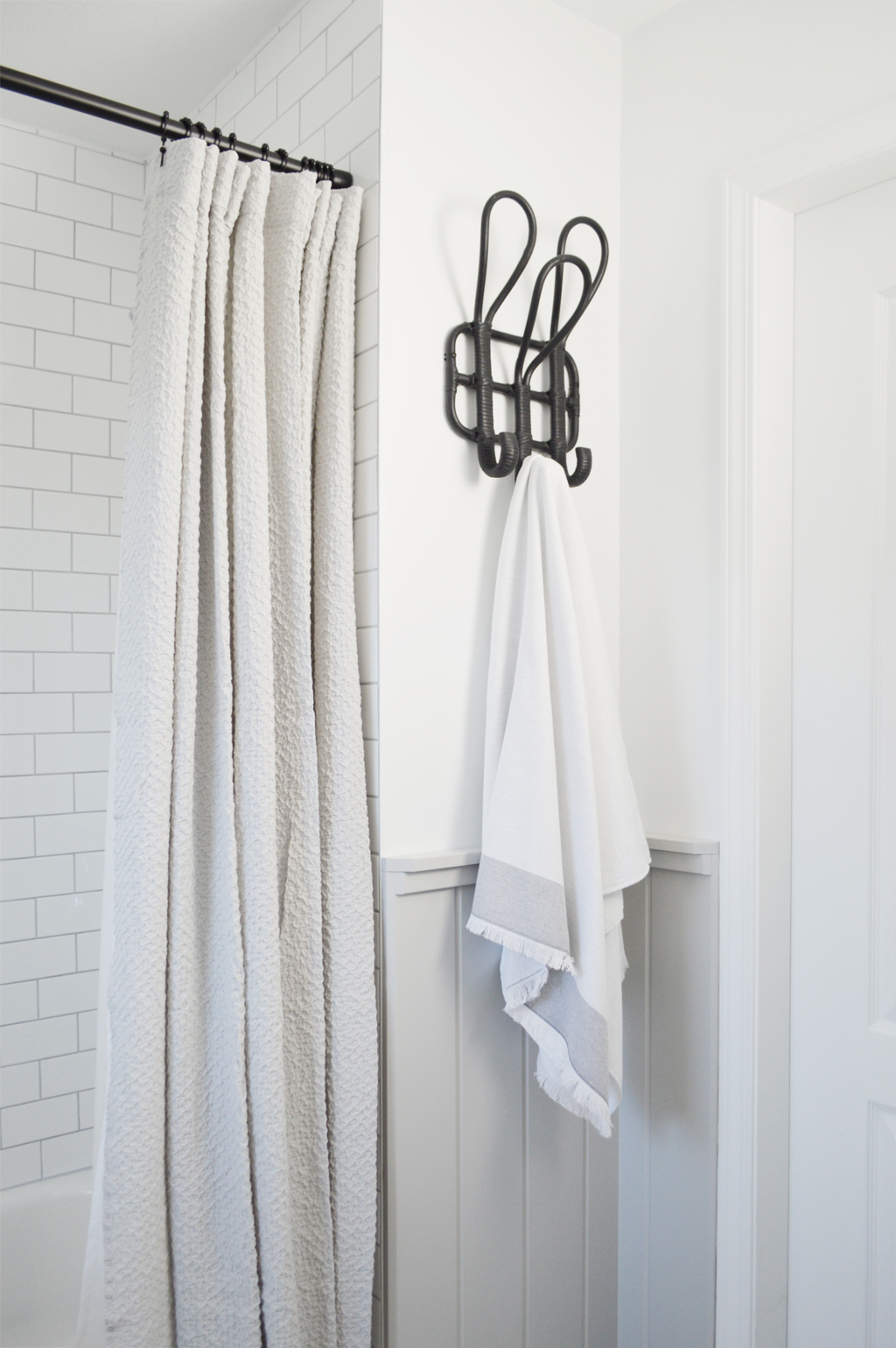 .
I'm so excited to finally show you the reveal of our DIY guest bathroom renovation. The best thing is that we made it for under $2,000! You can find all the details, photos and a cost breakdown below.
Reasonable and affordable interior designs are my specialty. The best place to play around with my ideas is our own house that is an entire DIY reno project!
We have a master bathroom, a guest bathroom and a powder room. Before we tackle the master bathroom we wanted to renovate the guest bathroom, to have a nice and clean space that we can use while the master bathroom is under construction.
A bathroom renovation can be super expensive. But it doesn't have to. We combined timeless colours and elements with leftover materials, DIY projects, IKEA furniture and a lot of our time.
Now that the guest bathroom is done, I'm not sure if we start the master bathroom soon or if we need a break from bathrooms lol. It was exhausting and time consuming. I'm not gonna lie. But it was so worth it!
I hope I can inspire you to do your own bathroom reno on a budget. I know some of you interpret my neutral colour palette as boring. In Germany we say "Über Geschmack lässt sich nicht streiten" which means about taste can not be argued. If you follow me on Instagram you saw that I've tested towels in different colours and thought about colourful walls. At the end I just appreciated a quite and calming interior for this room. So feel free to use this DIY renovation as an inspiration and use the colours you love and that make you happy 🙂
.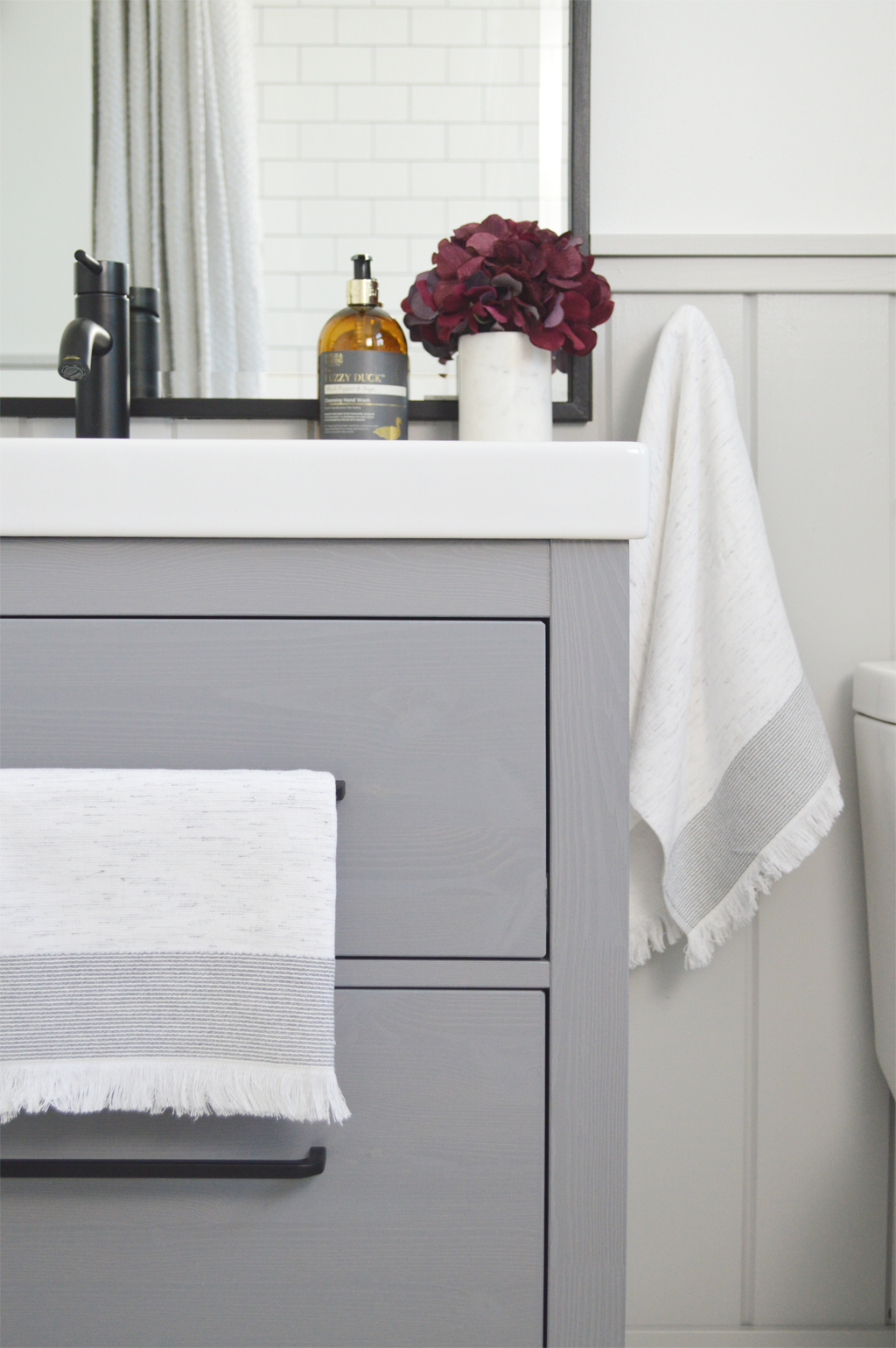 .


THE DESIGN
It took a while to determine the exact design. I spent a lot of time on Pinterest. You can see all my inspiration here.
I knew I wanted a simple subway tile on the walls and a hexagon mosaic on the floor. But I wasn't quite sure if I want to go bold with black walls or go bright with white and grey. I did partially black walls in the living room and love it! At the end, I decided to go bright but with black accents for the following two reasons:
#1 We've painted all our kitchen cabinets in a light grey (you can see the transformation on my Instagram, still need to do the blogpost!). We had a whole gallon left from that Benjamin Moore paint. And if you know me, I'm always for using leftovers before buying something new.
#2 The door of the guest bathroom is always open and you can see the room from many places on the second floor of our house. Since everything else is pretty bright here, black walls in the bathroom would just be too bold and not cohesive.
If you know my style, you might noticed that I love creating timeless and neutral rooms in our house. I re-decorate rooms from time to time and appreciate if the room itself is like a blank canvas, ready to deal with my different decor styles. Don't get me wrong. By blank canvas it doesn't mean that the room is just painted white, cheap and without character. We've invested in white oak hardwood flooring for the entire house (almost 3,000 sq.ft., even the staircase will get solid oak treads). We treated many walls with trims, panels, shiplap, wallpaper and neutral colours.
On the photo below you can see the towels I've tested in the bathroom. I did a survey on Instagram. You can see the stories in my highlights. It is crazy how the towels can change the vibe right?!
I also love #4 because it definitely gives me that beachy vibe. #2 is so beautiful and the towels were really thick and felt luxurious, which I love. But as I said, I wanted to keep it as neutral as possible. At least that is how I feel this week. I might re-decorate it in a few weeks lol.
.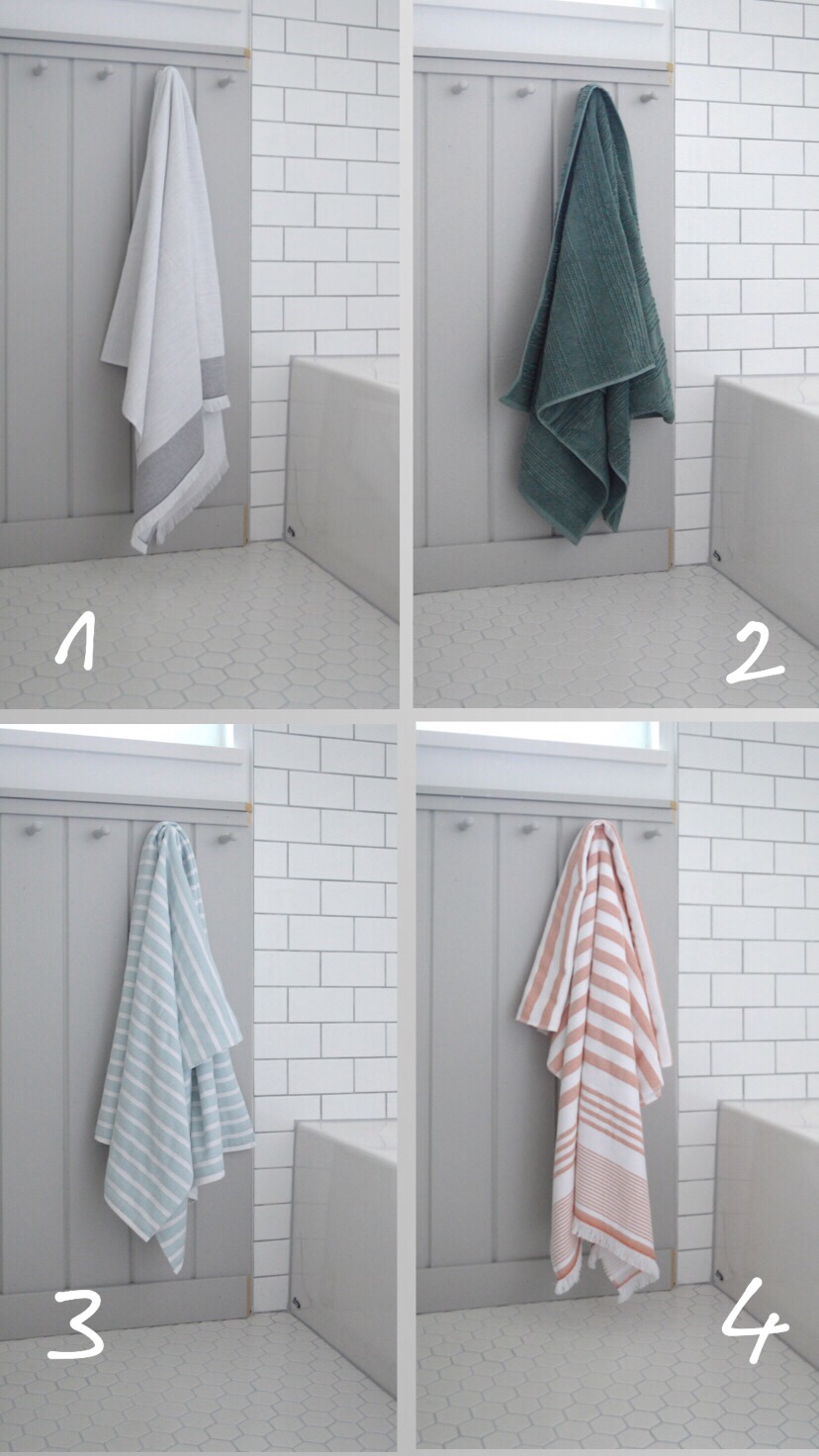 .
CONSTRUCTION
..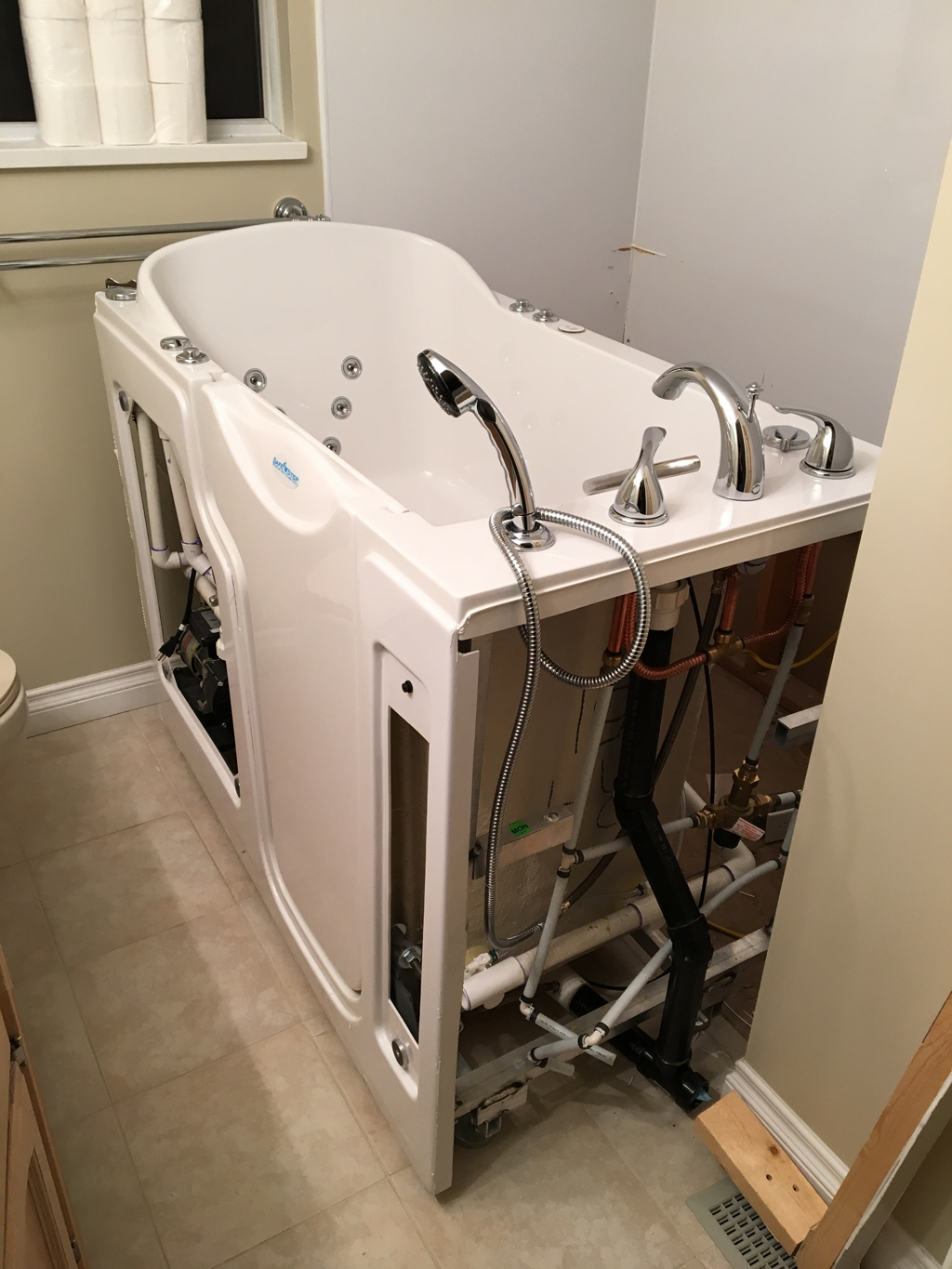 First, we needed to sell the existing bathub which was just one year old when we purchased the house. Since it is a special tub we could sell it on Craiglist for $2,000! So we've paid the whole bathroom reno out of the sale of that beast!
If you are interested in all the details, you can find each reno step in my Instagram highlights about the guest bathroom. It's not that I want to force you to visit my Instagram account LOL but it's just so easy to show you the stuff in short videos and stories.
I rather show you the 8 million photos of the complete room here!
.
BEFORE & AFTER
This is how the guest bathroom looked like when we viewed the house for the very first time: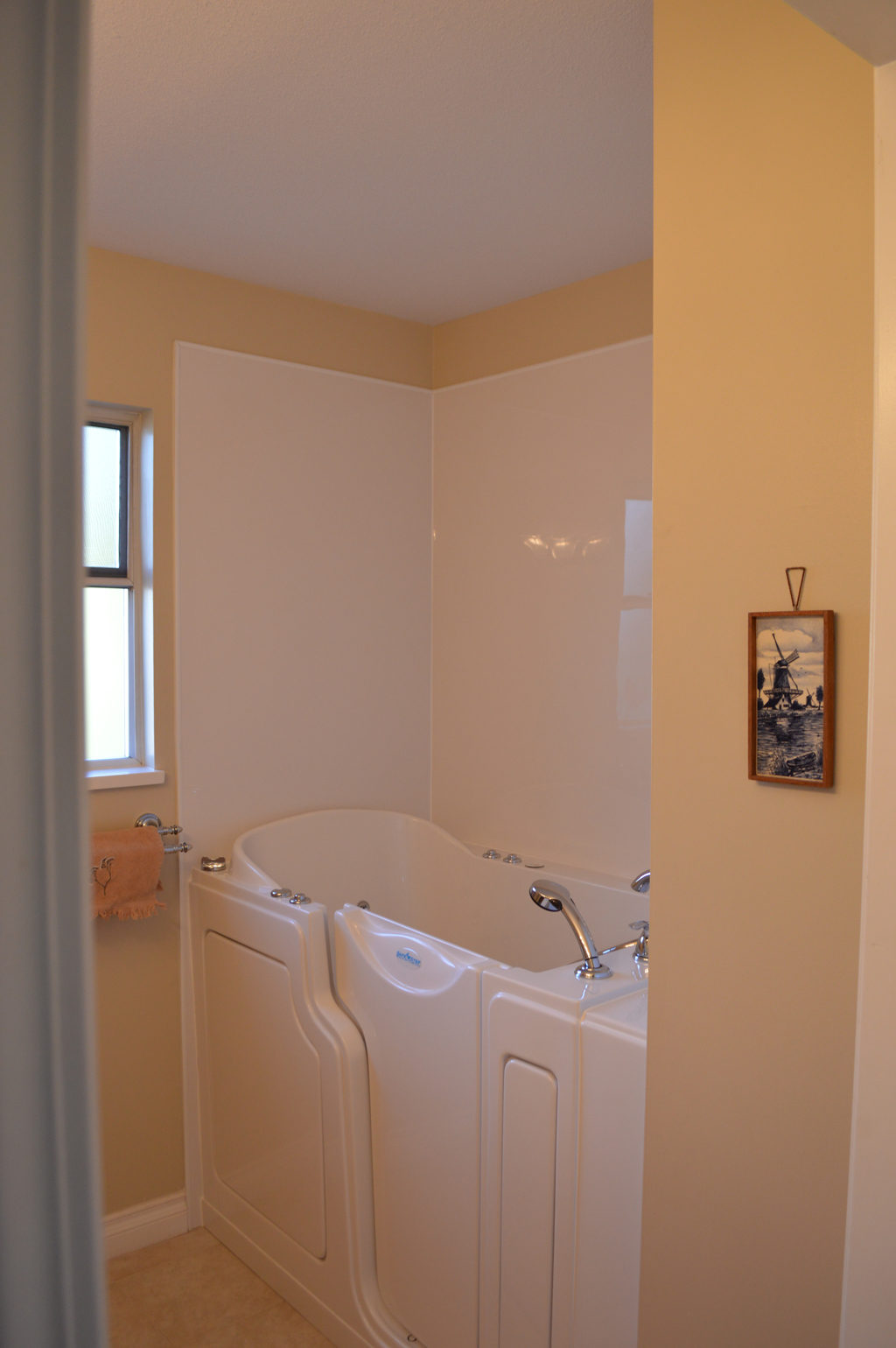 .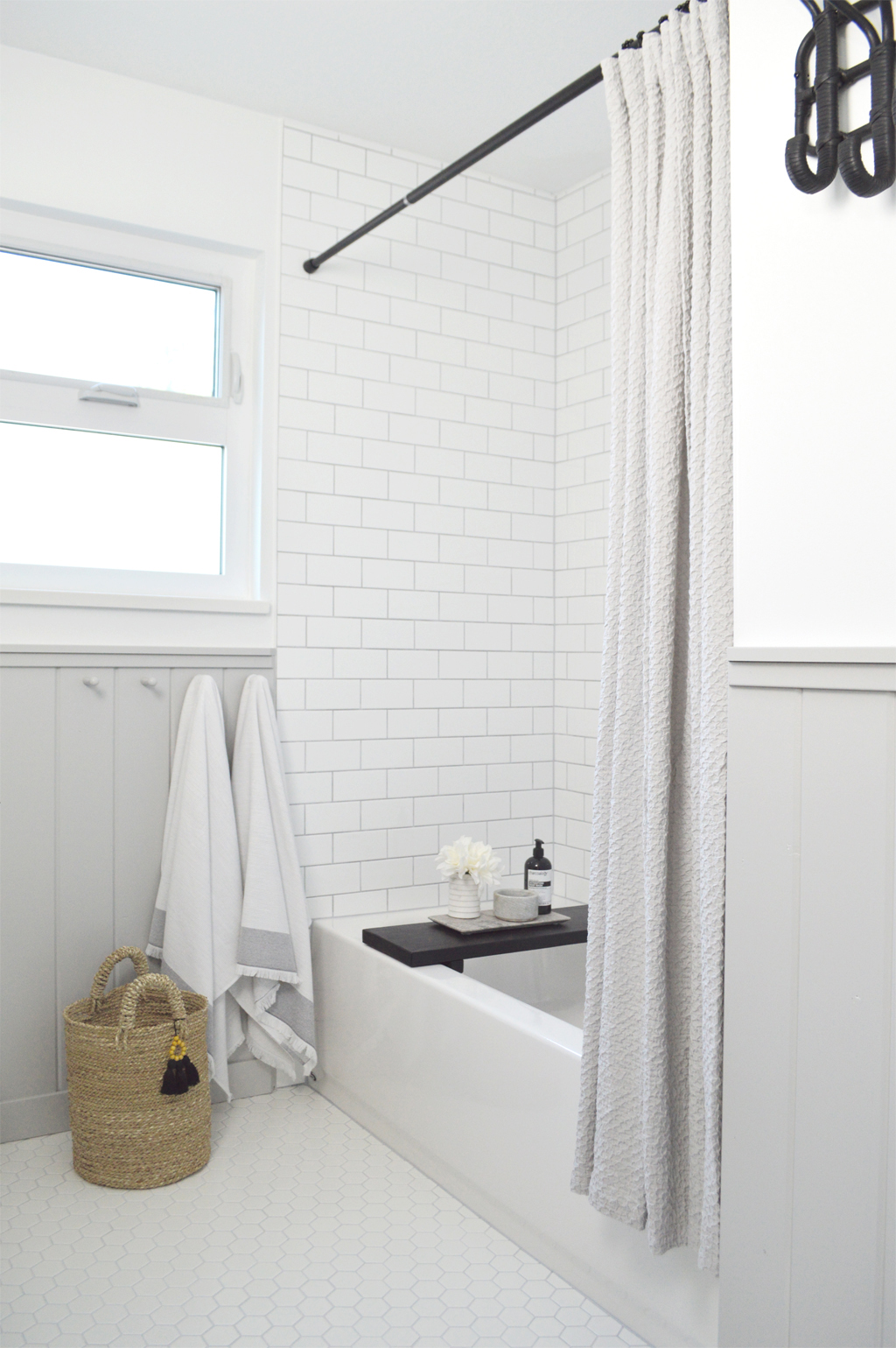 .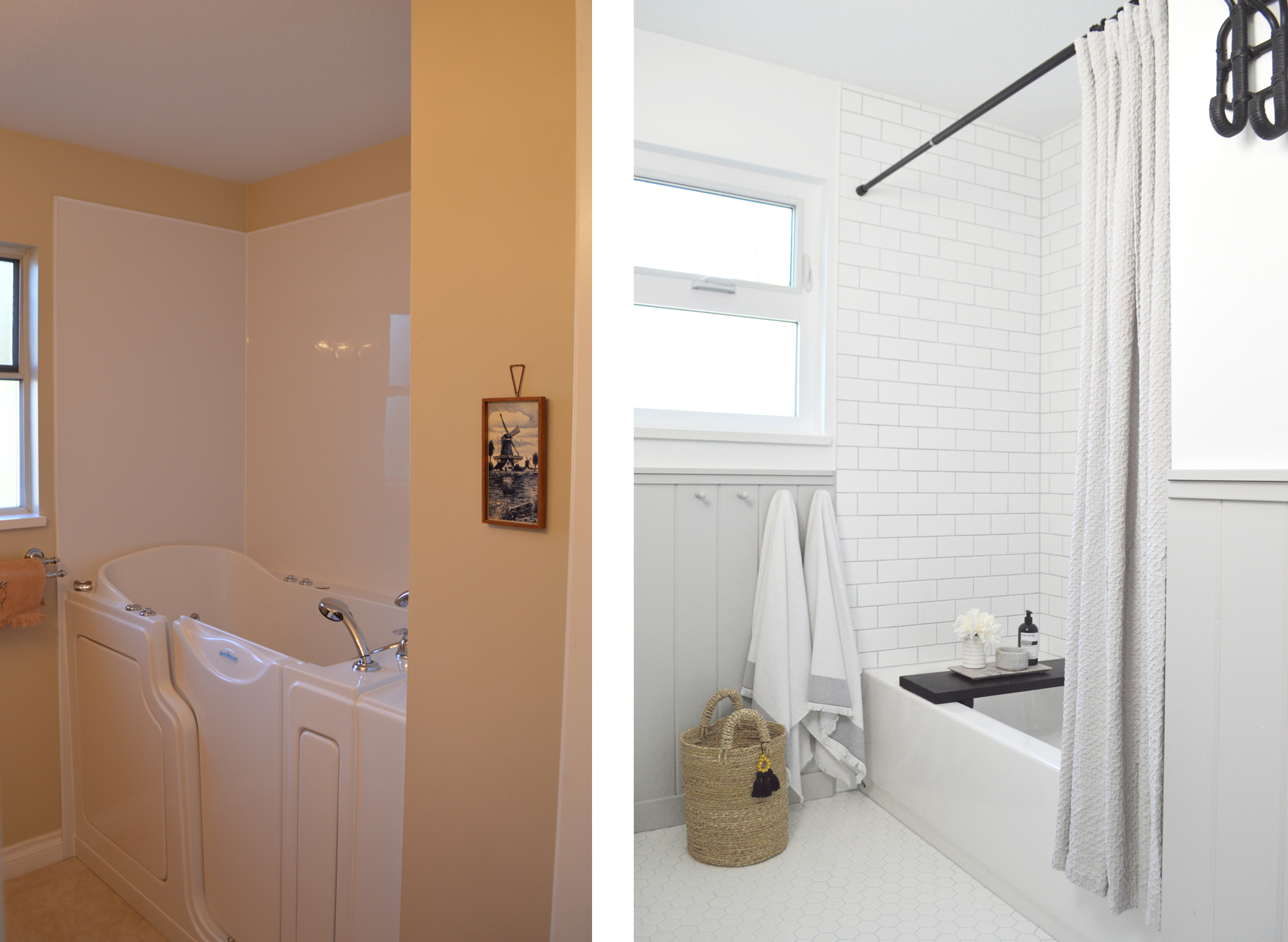 .  .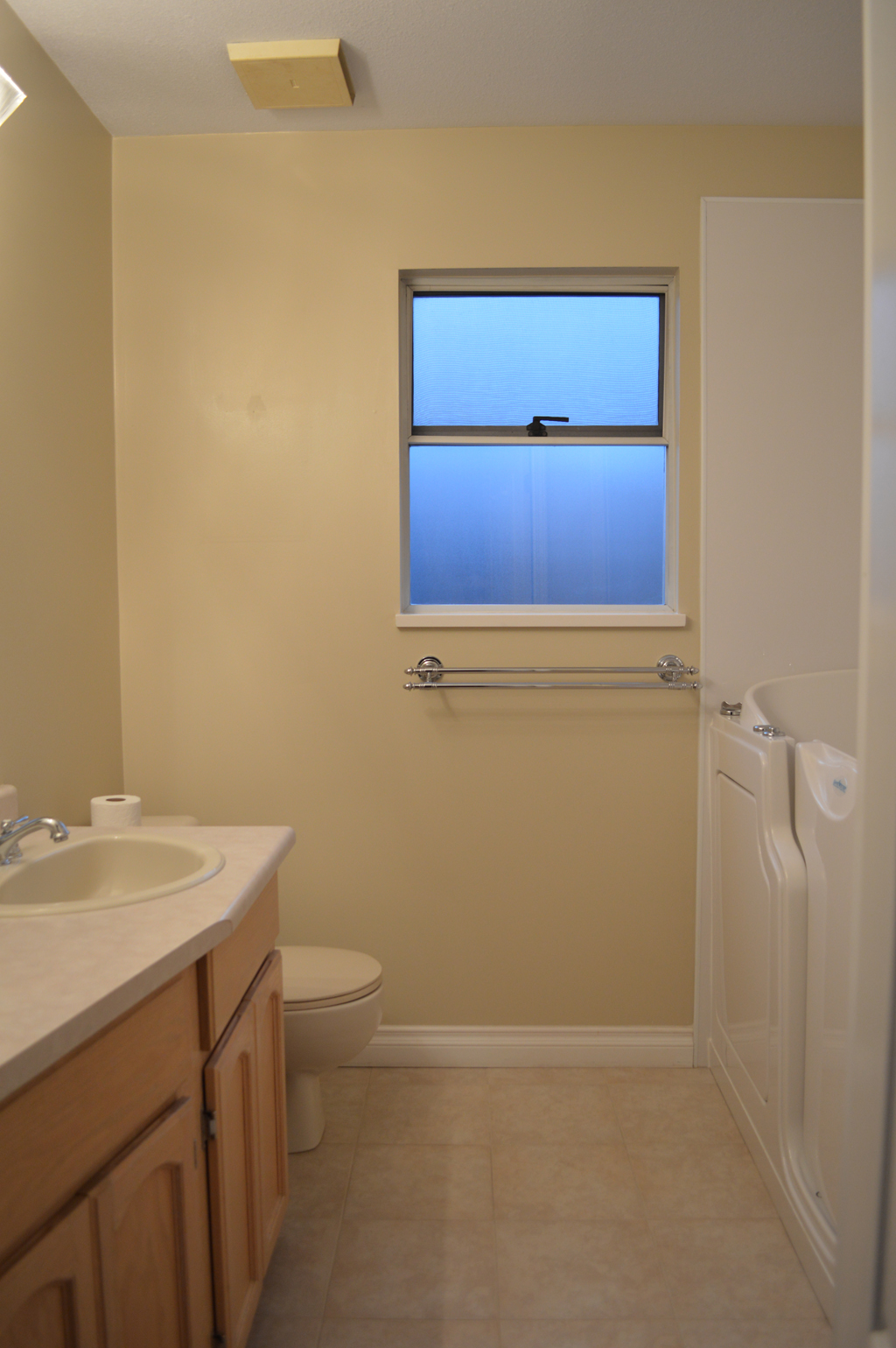 .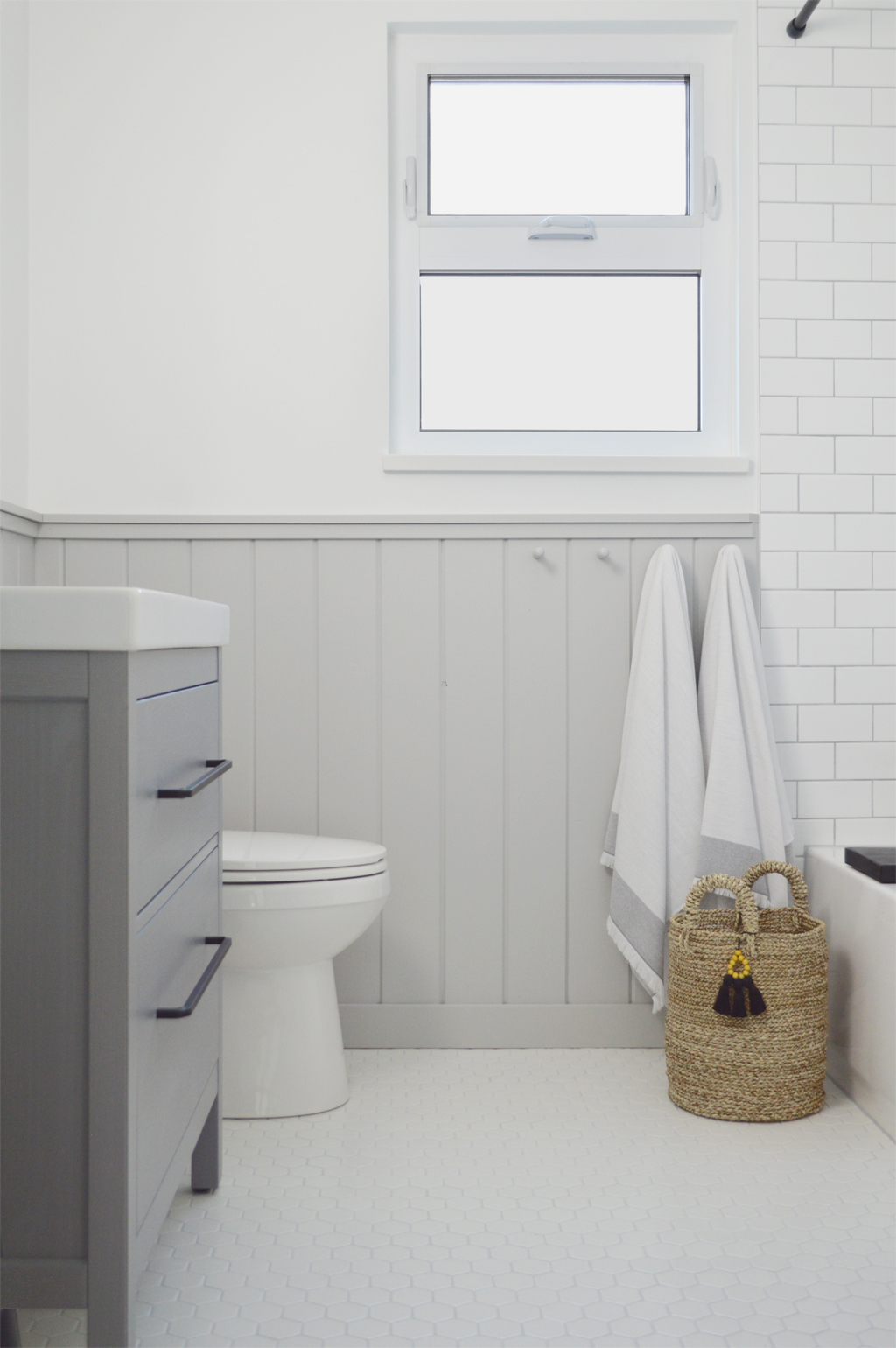 .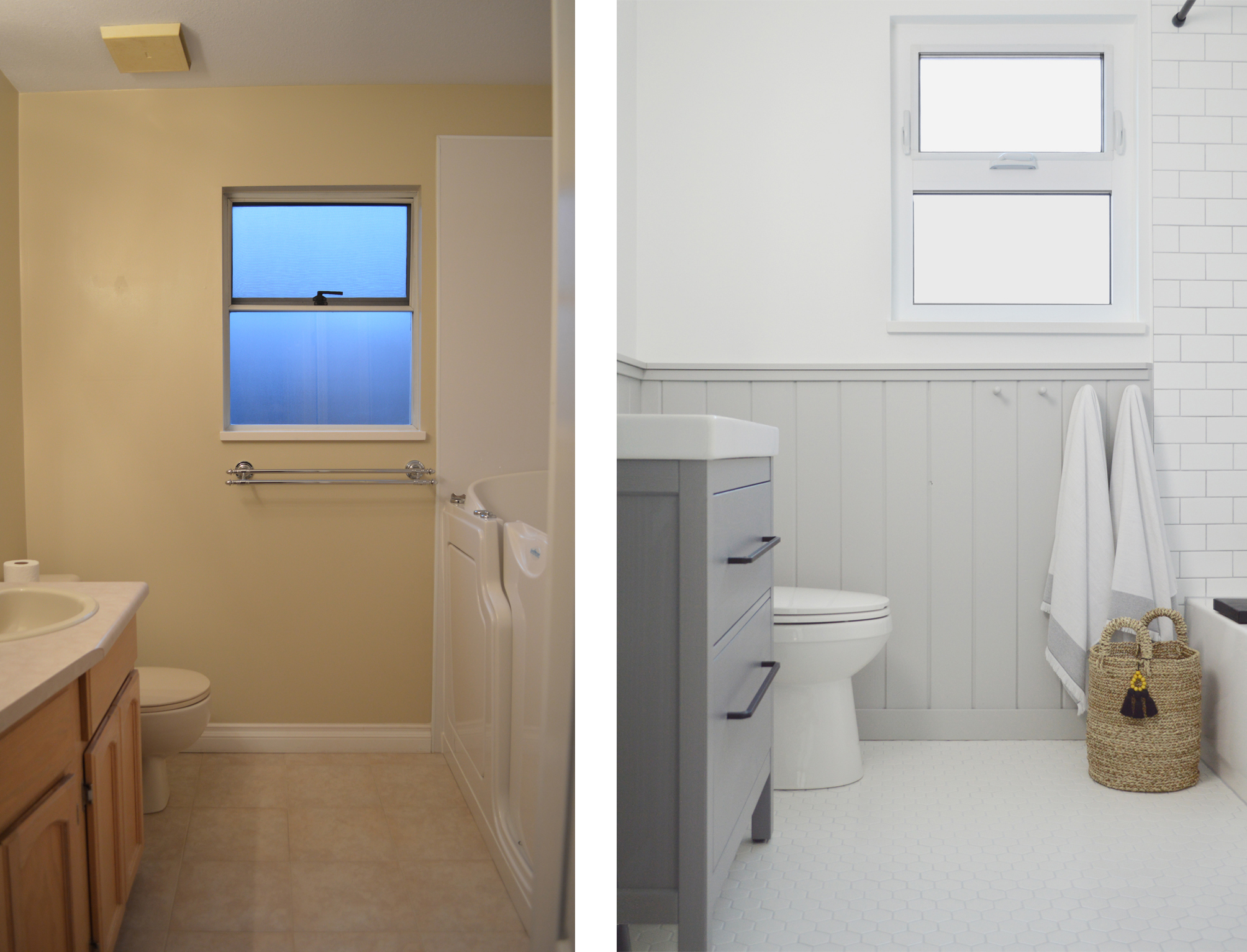 .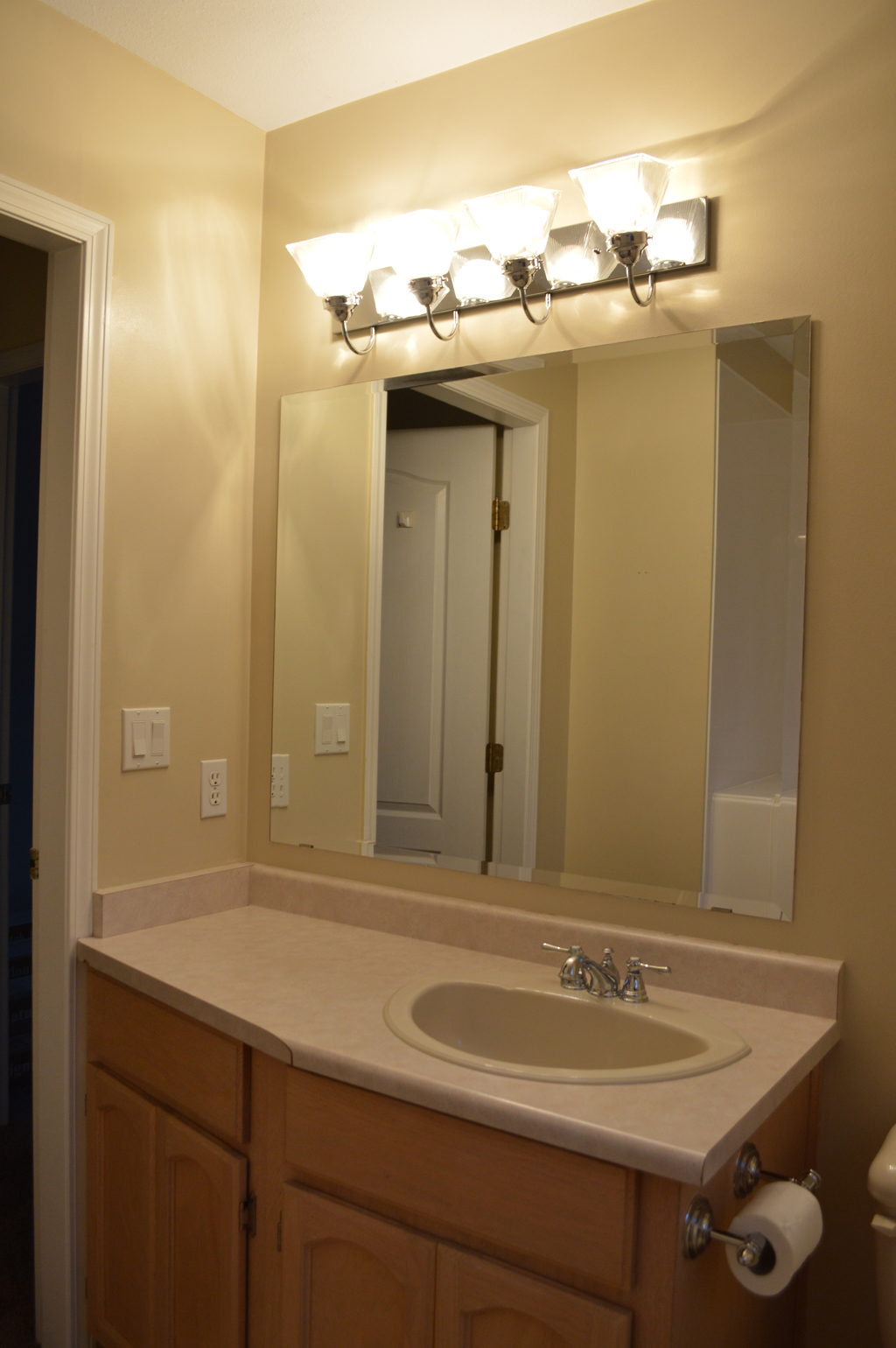 .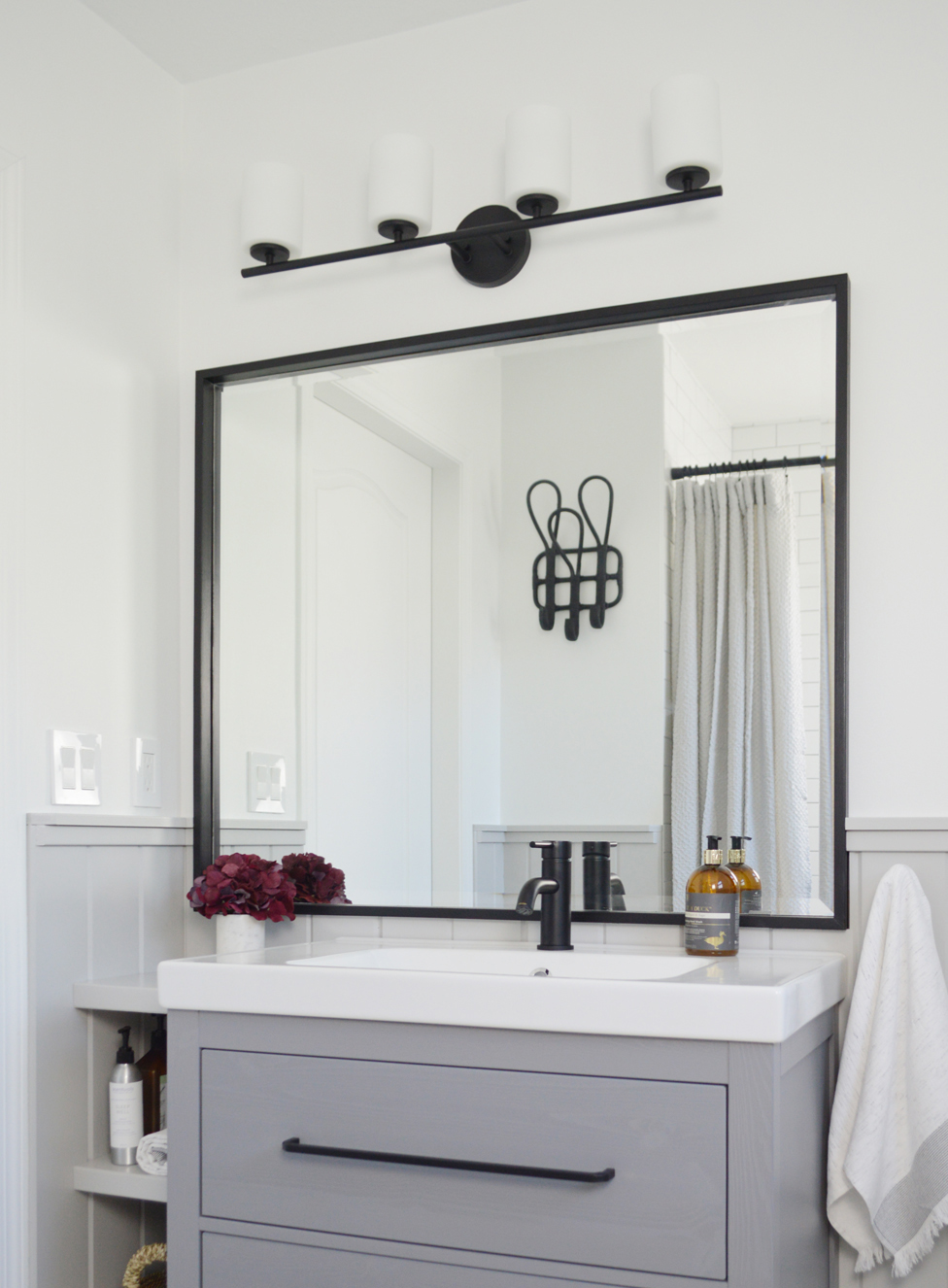 .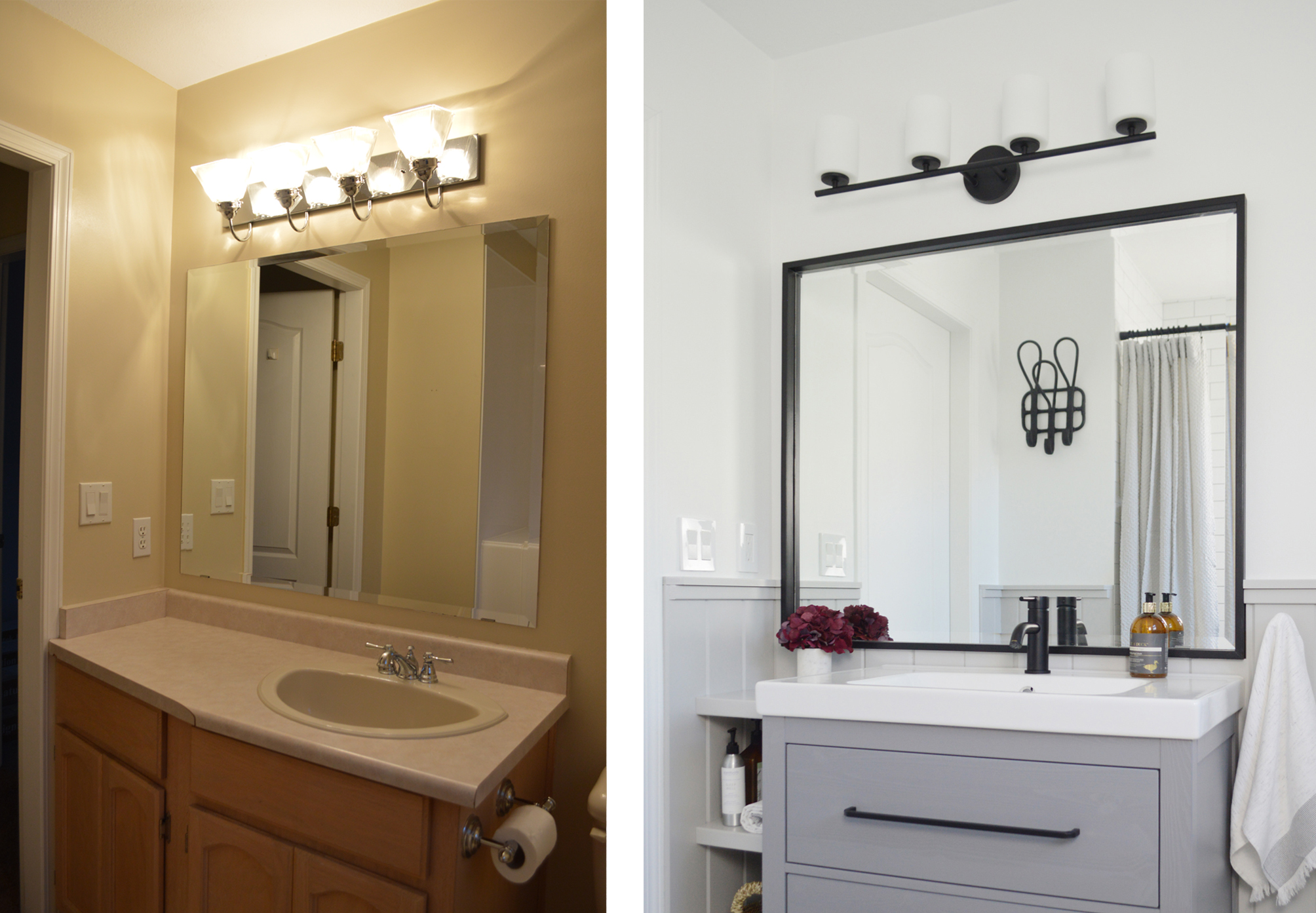 ...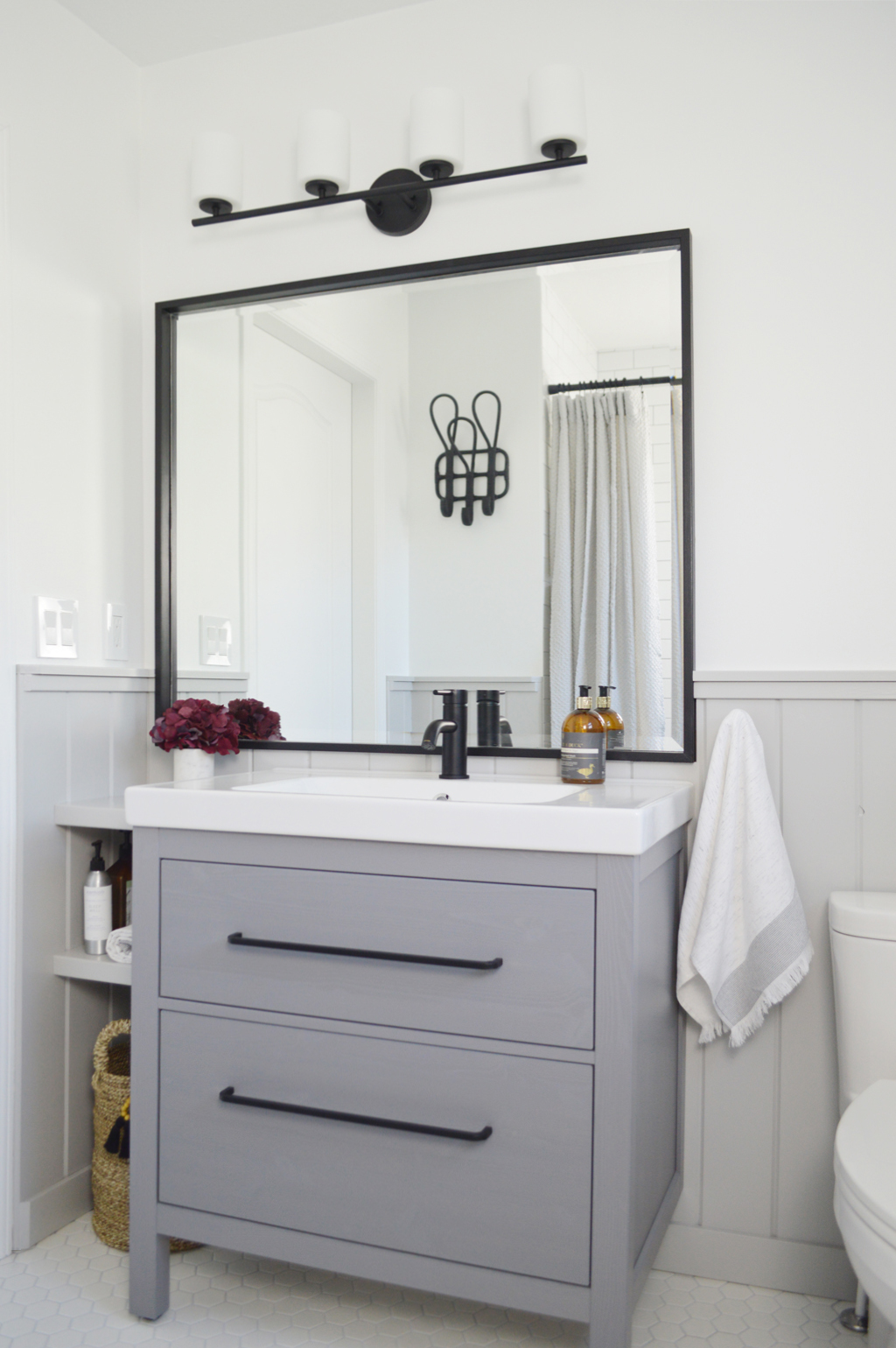 I'm still playing around with the soap dispenser and the flower. So here there are a few different options here.
,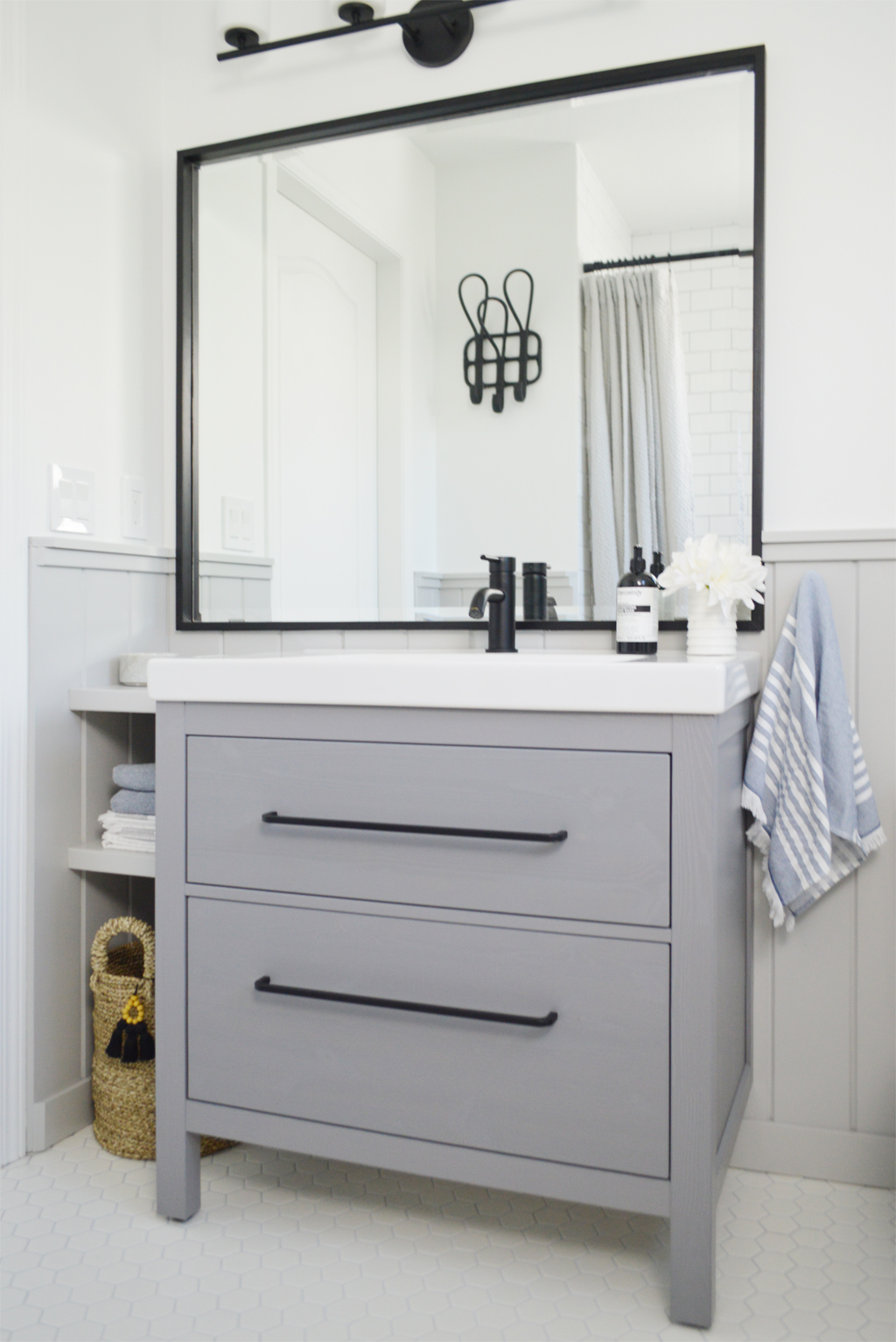 .'

.


+++ THE COSTS +++

Steel Bathtub from Home Depot$350
Toilet from Costco $195
Moen Shower Fixtures from Home Depot $100
Faucet from Wayfair $130
Ikea Vanity + Sink $350
Ikea Hardware for Vanity Drawers $15
V-Groove Wall Paneling, Pegs, Baseboard + Trim from Home Depot $100
Tiles, Grout, Mortar, Silicone + Acryl $530
Paint $70
Trim for DIY Mirror Frame $10
Wood for DIY Shelf & DIY Bathtub Tray $10
Vanity Light $130

+++ TOTAL $1,990 +++

.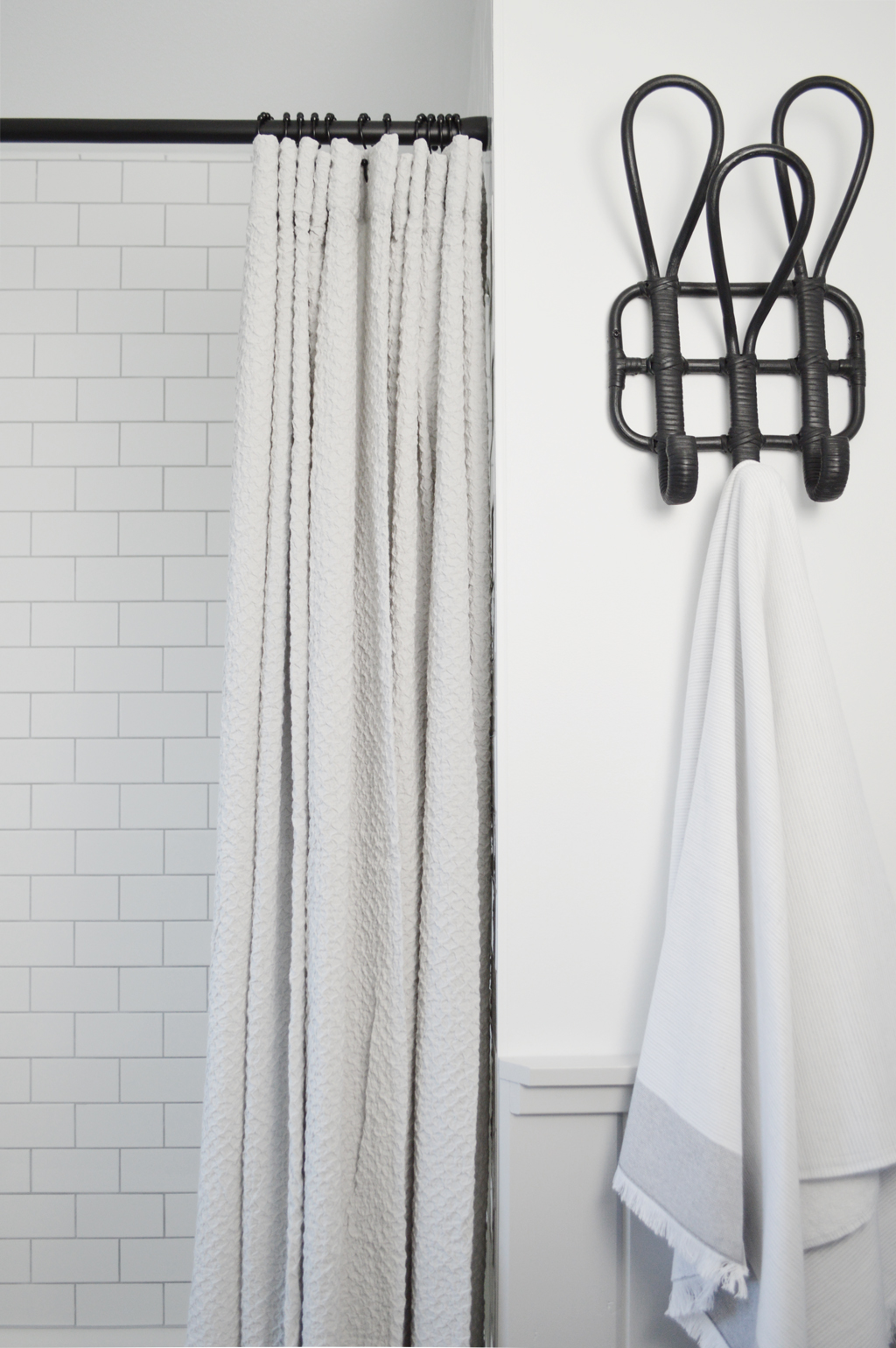 .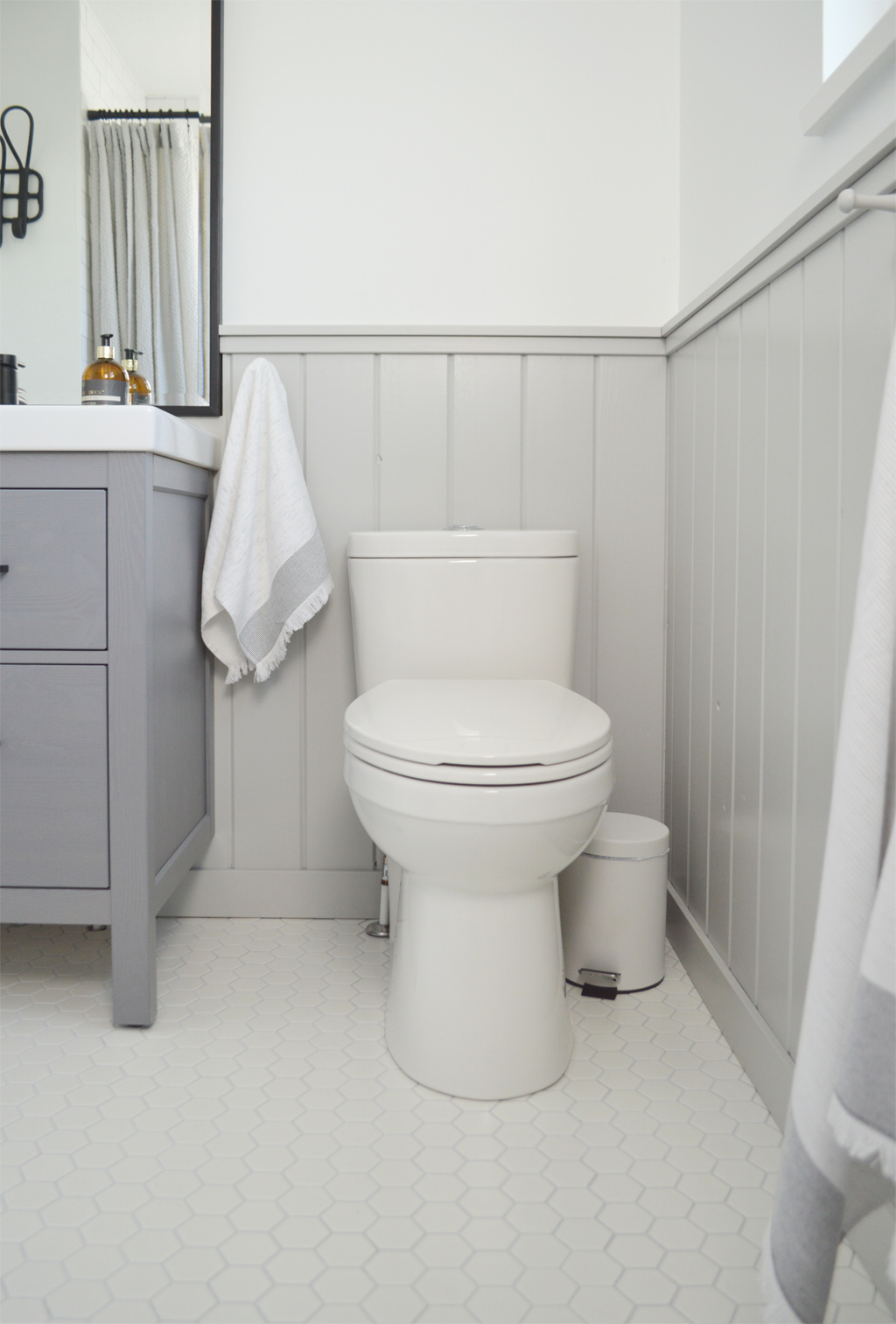 .
If you are planning a bathroom reno too, don't forget to calculate the accessories!
With the right decor and towels you can elevate and change the whole look of your room. You can find the costs that I spent on this stuff below. Please note, that I've found almost everything at Homesense. For all my German readers, in Germany it is TK Maxx.
.
+++ THE COSTS FOR ACCESSORIES, DECOR & TOWELS +++

Shower Curtain Rod from Amazon $34
Curtain Hooks Rings from Amazon $19
Shower Curtain $30
Soap Dispenser $13
Towels $68
Flower from Michaels $10
Marble Vase $8
Basket $20
Trash Bin $6 (it was on sale as it has several scratches on the back, which no one can see in our bathroom)
Marble Bowl $8
Marbel Tray $8
Soap $7
Body Wash $7
Rattan Hooks from Ikea $1 (On sale! Unfortunately, not available right now)

+++ TOTAL $239 +++

.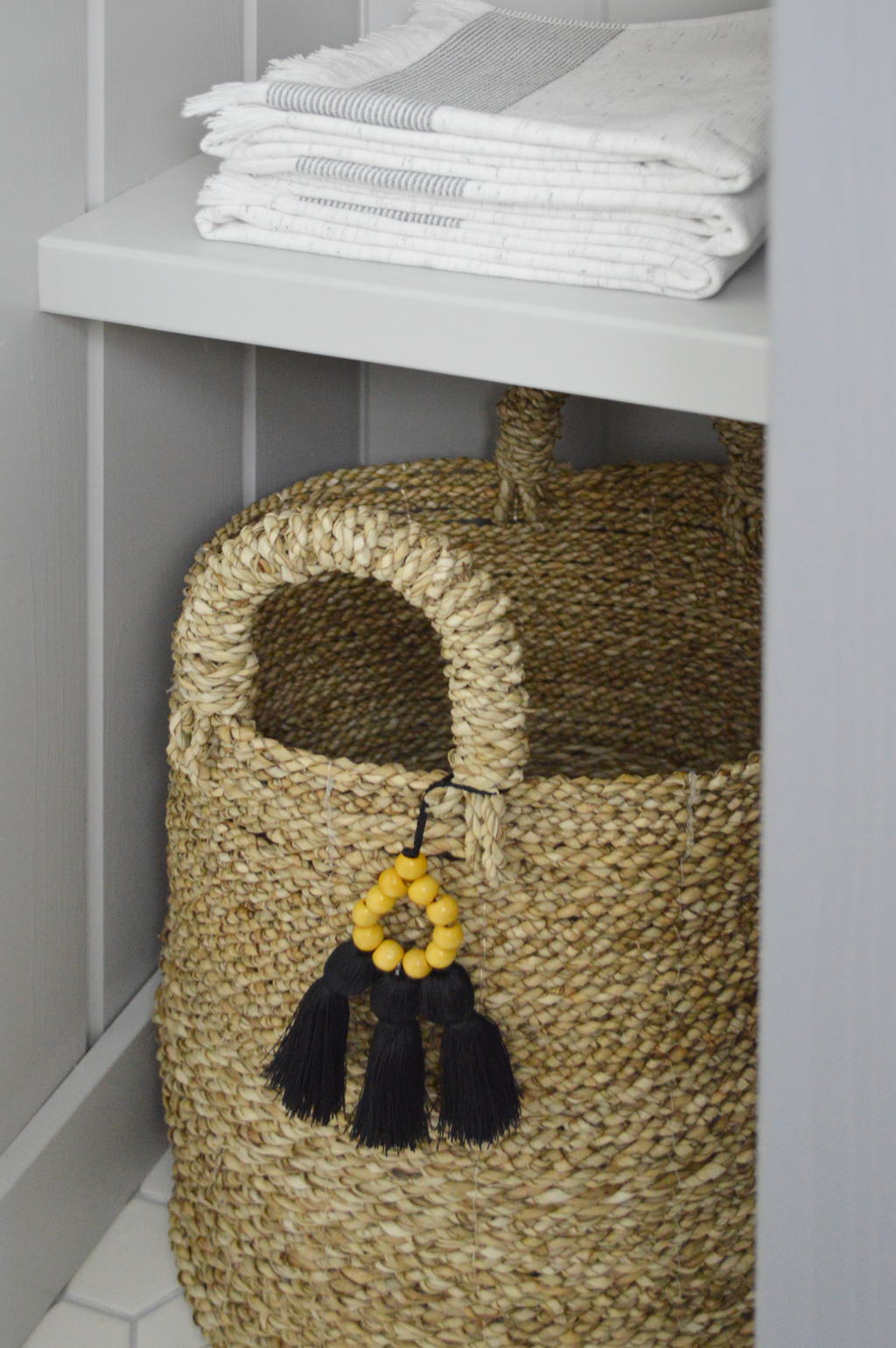 .
I'm so excited about this faux purple flower! For the very first time I bring in something purple into our house! I especially love how it goes with the cute yellow basket detail.
I've also bought a white flower which goes very well with the blue hand towels. What do you think? What is the best comination and your favourite?
.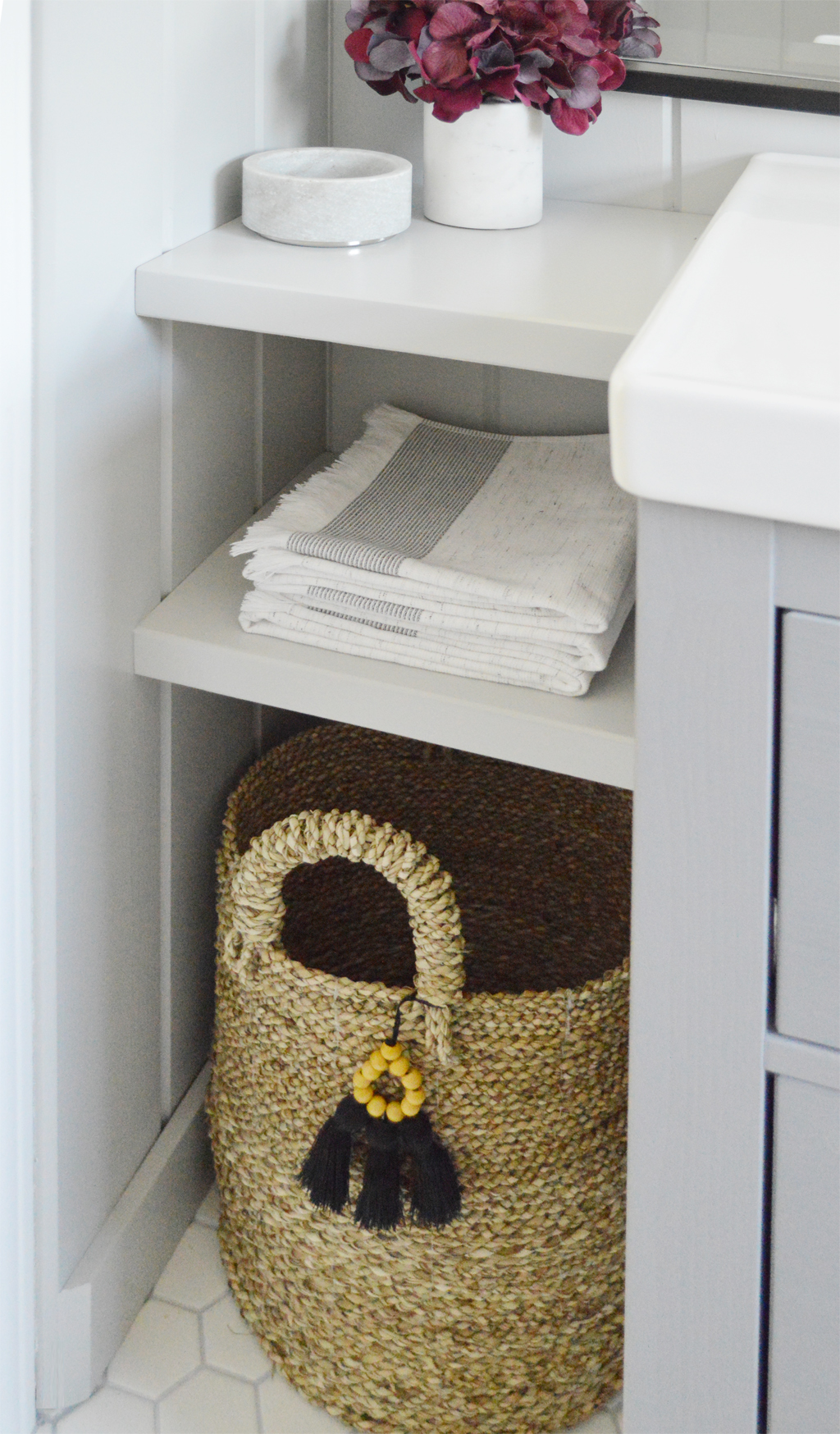 .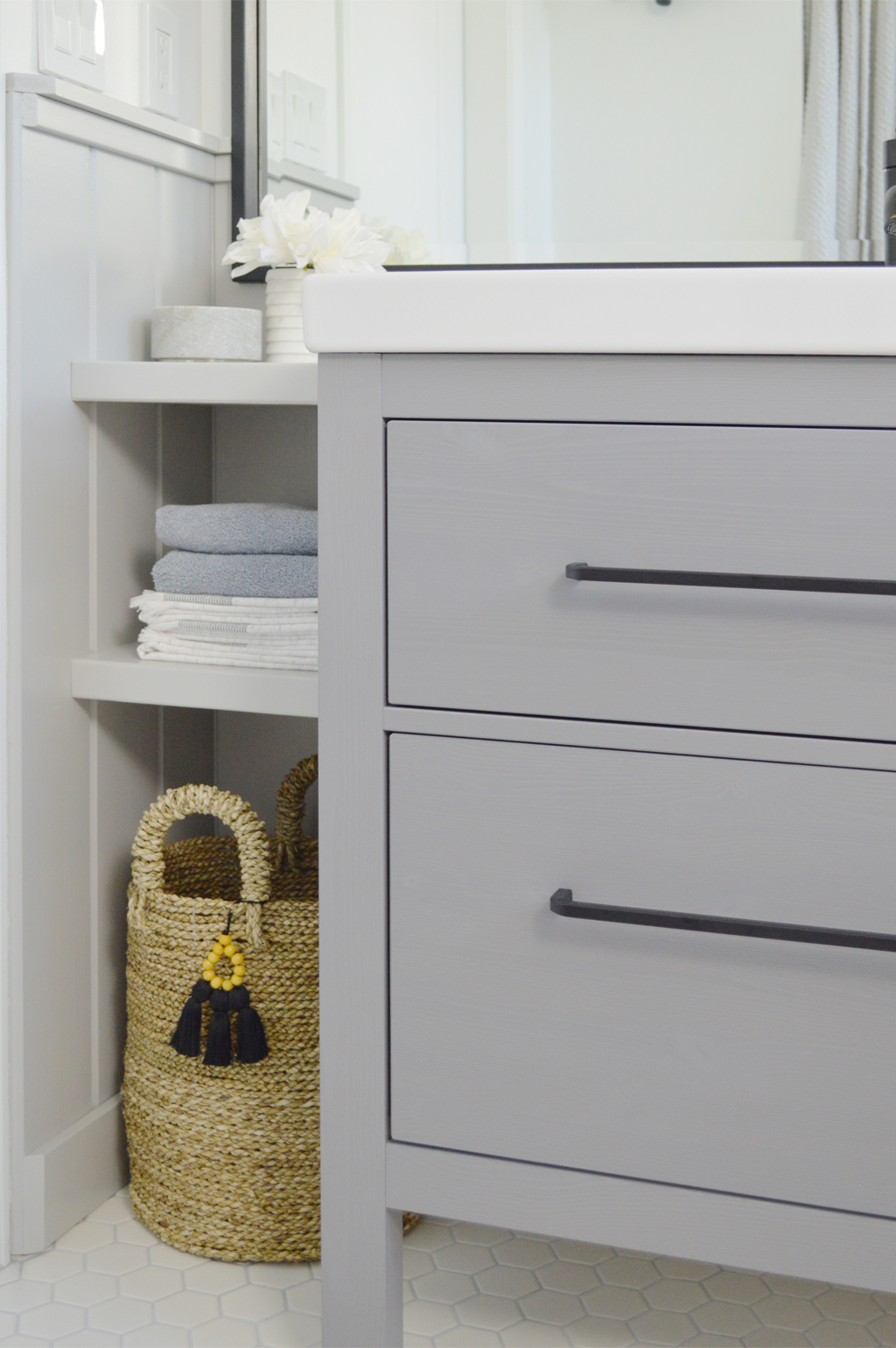 .
DIY BATHTUB TRAY


.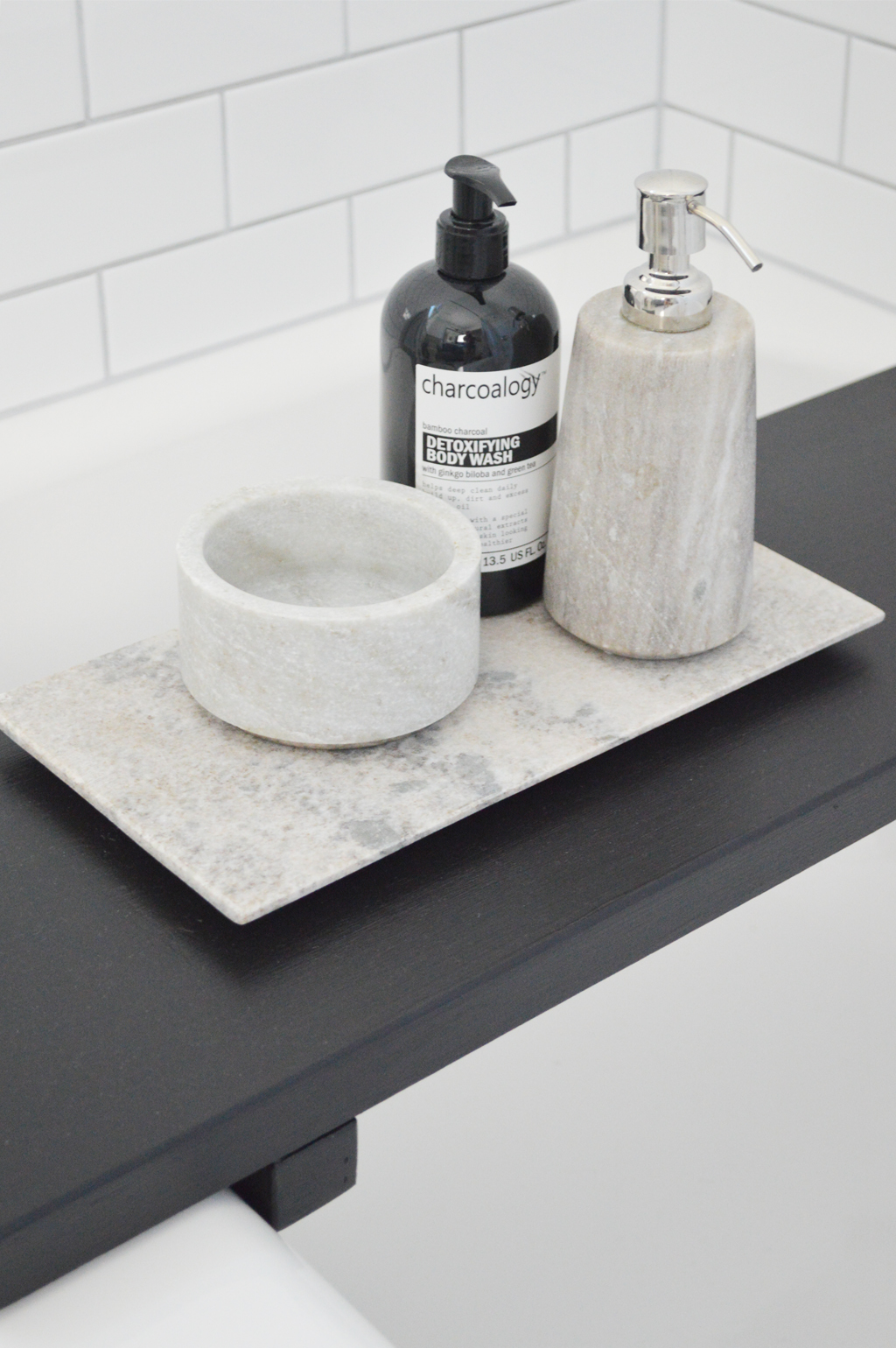 .
The bathtub tray is a super easy and quick DIY. I made it from solid wood and painted it with satin enamel exterior paint to make it water resistant. It is an easy way to create more space for body wash and other accessories that you need in the shower if you don't have an niche and don't like a hanging shower caddy.
If you don't like DIY's at all, I have a pretty cool IKEA Hack for you that I've done a few years ago.
.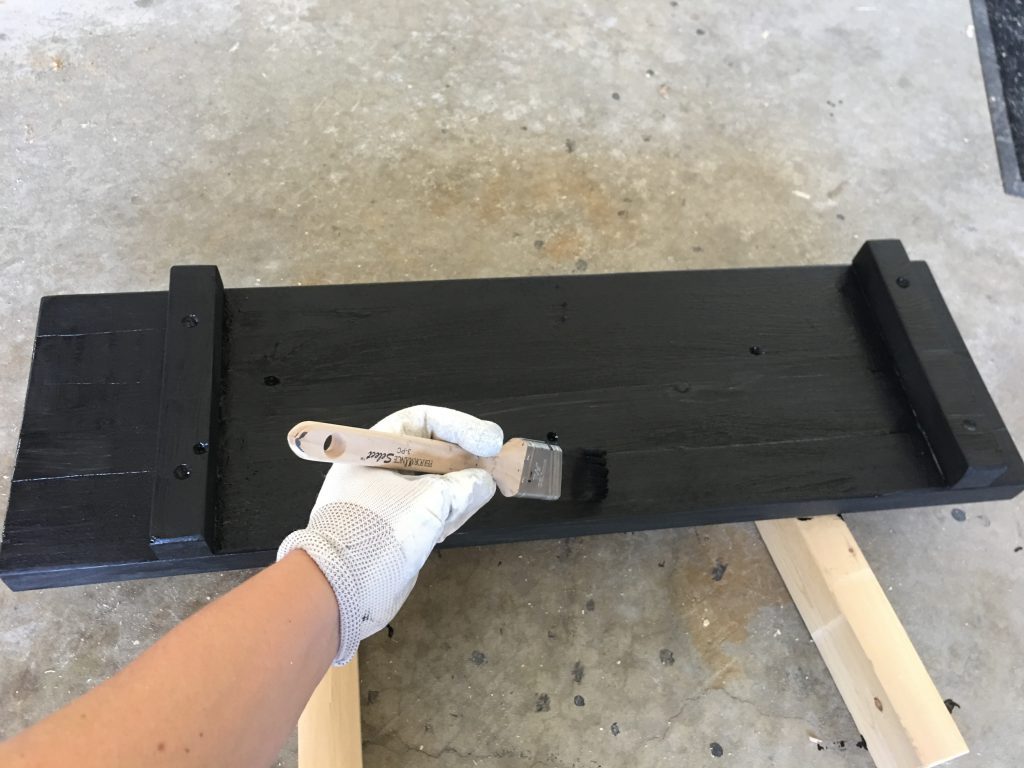 .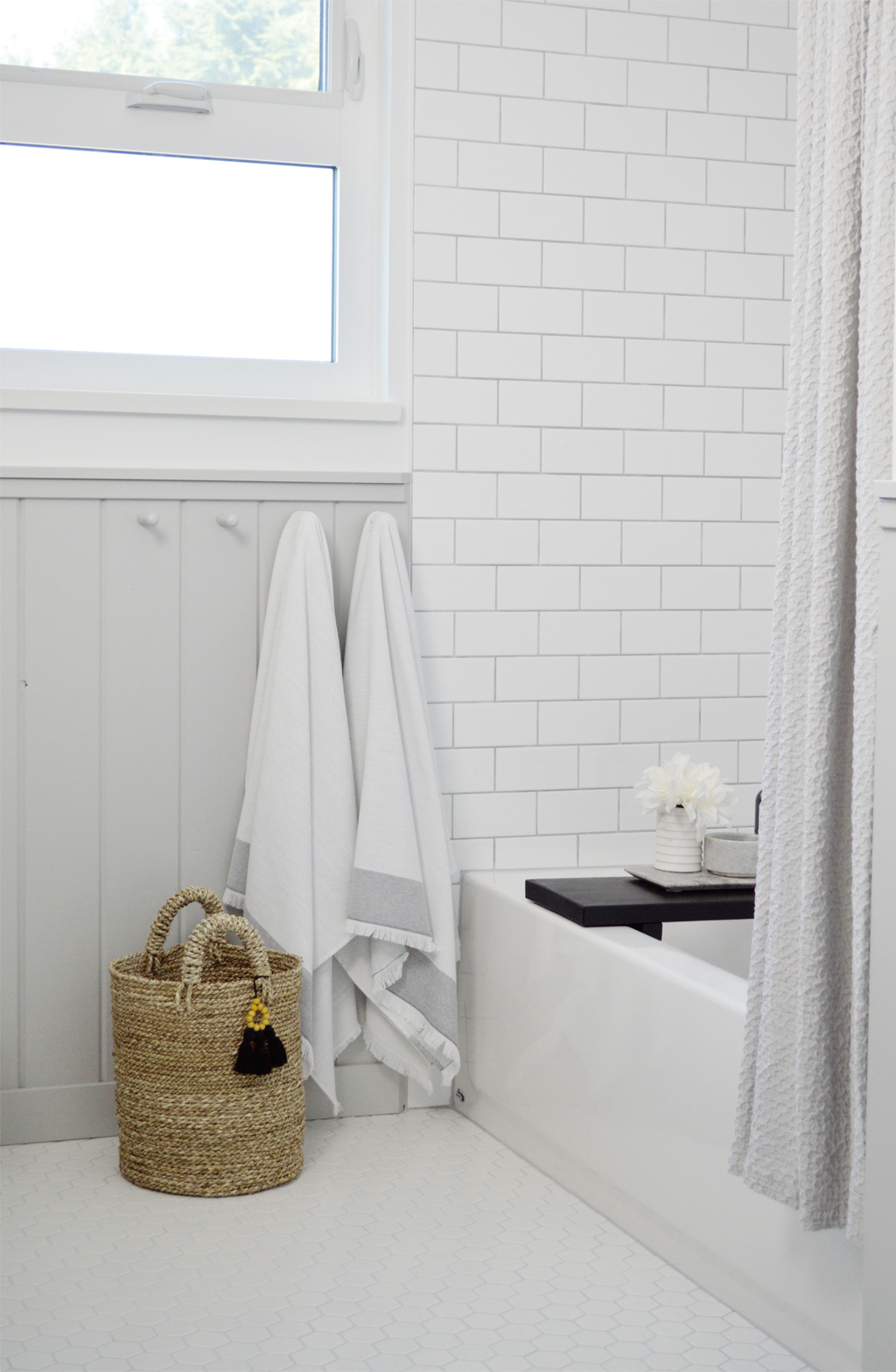 .



.


DIY FRAME FOR BEVELED MIRROR


.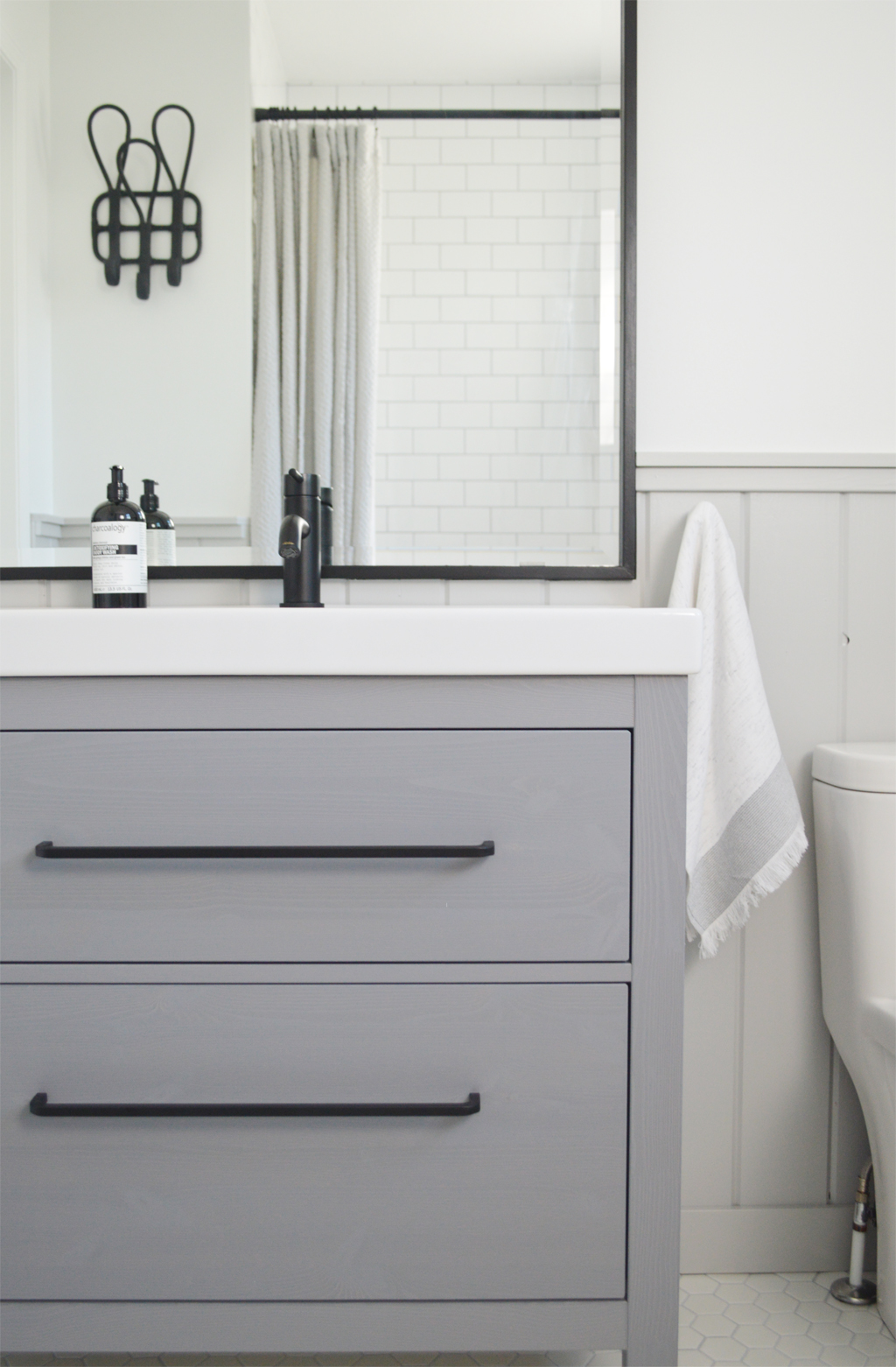 .
I don't know why, but I hate beveled mirrors. They look dated to me. But a new mirror is expensive and I acutally like the size of the existing one. To make it a bit more modern, we built a frame with primed flat moulding from Home Depot. I've painted it black to match the other black accents. You can see the first coat of paint on the next photo. This upgrade was only $10 and I think it's a great way to use what you have and save money.
.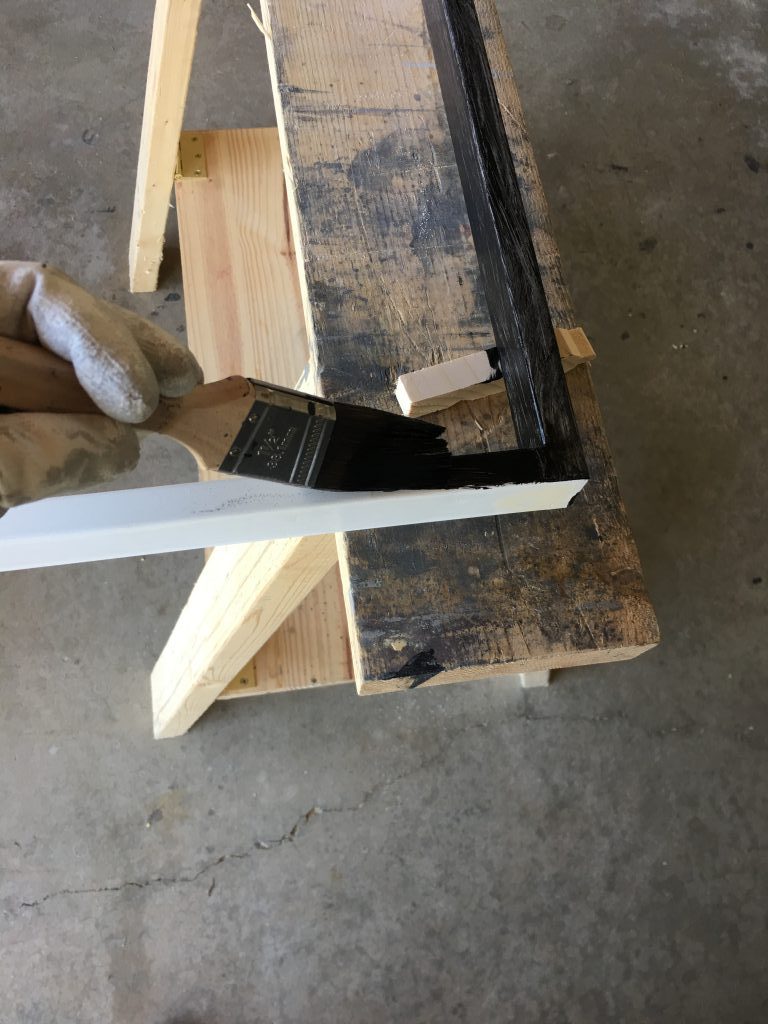 .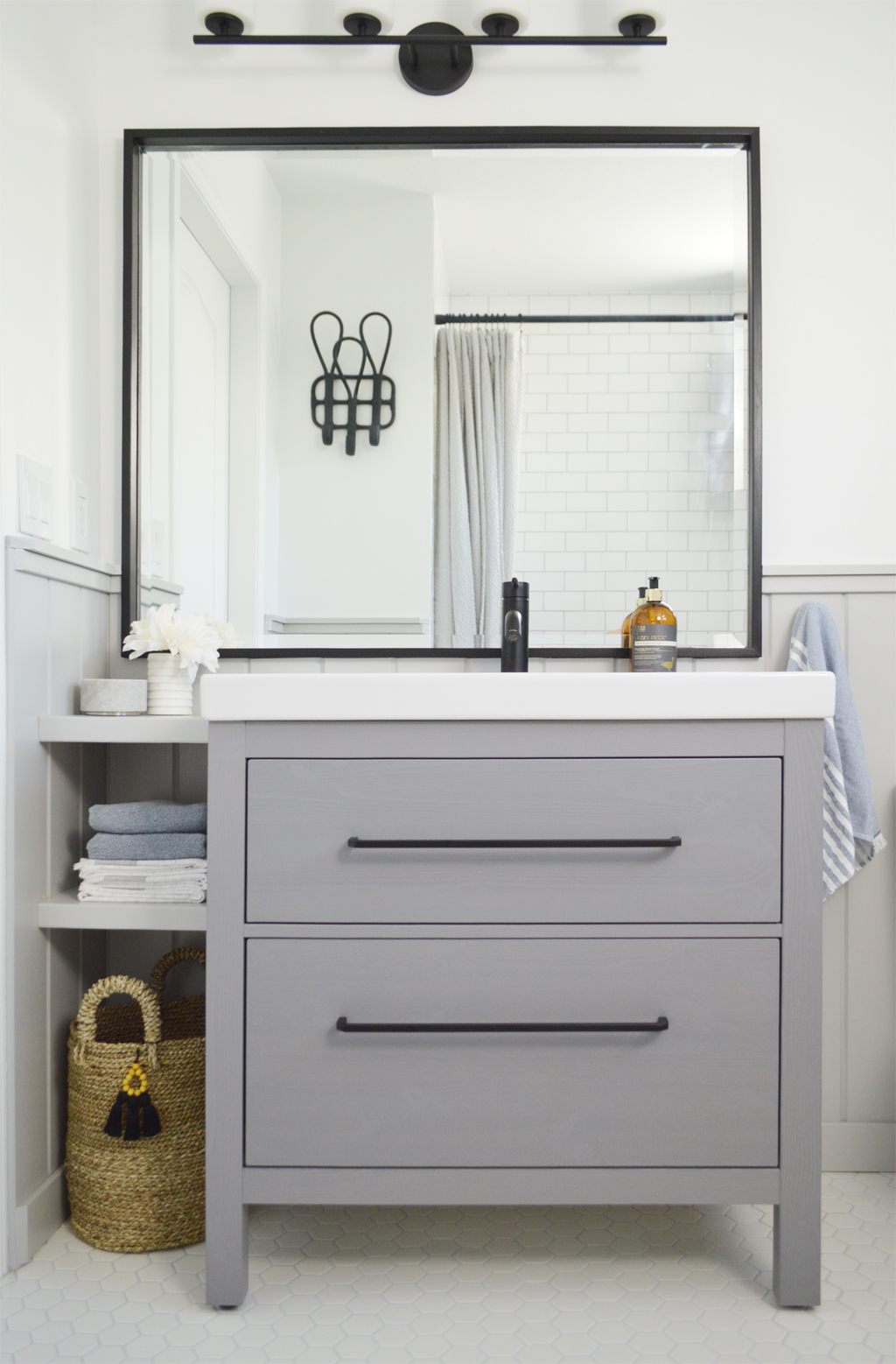 .
THE VANITY HACK
.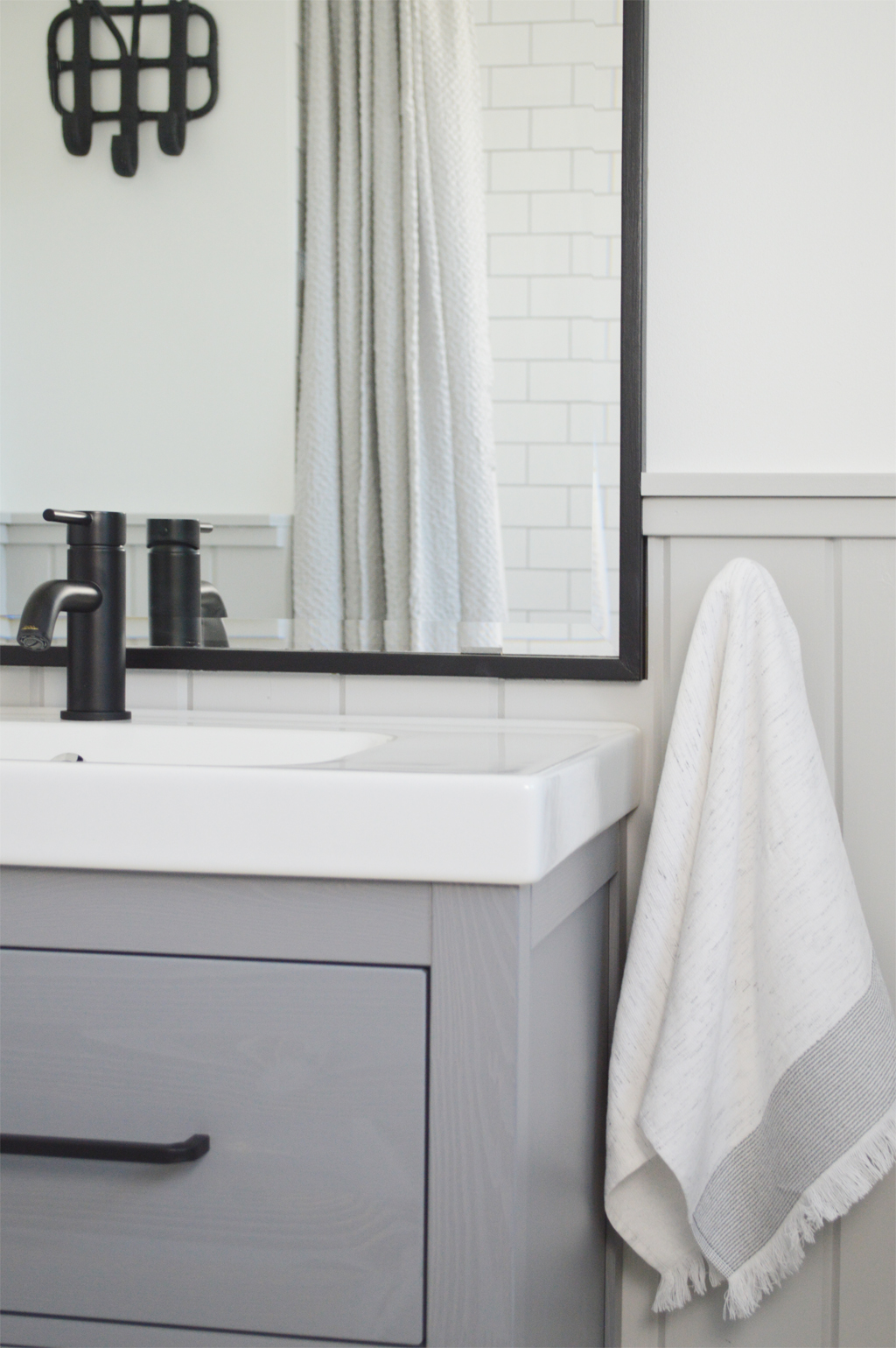 .
Of course I wanted a nice custom built vanity with a marble countertop and an undermount sink. But the budget was tight and so we went with the Hemnes / Odvensik combination from Ikea.
What I don't like about that vanity are the the knobs on the drawers.  I wanted to replace the hardware with long pulls and filled the already drilled holes with woodfiller and painted them in the exact same colour as the vanity.
I went to Home Depot with one drawer front and they scanned the colour and mixed the smallest available amount for me (which was only $5!).
.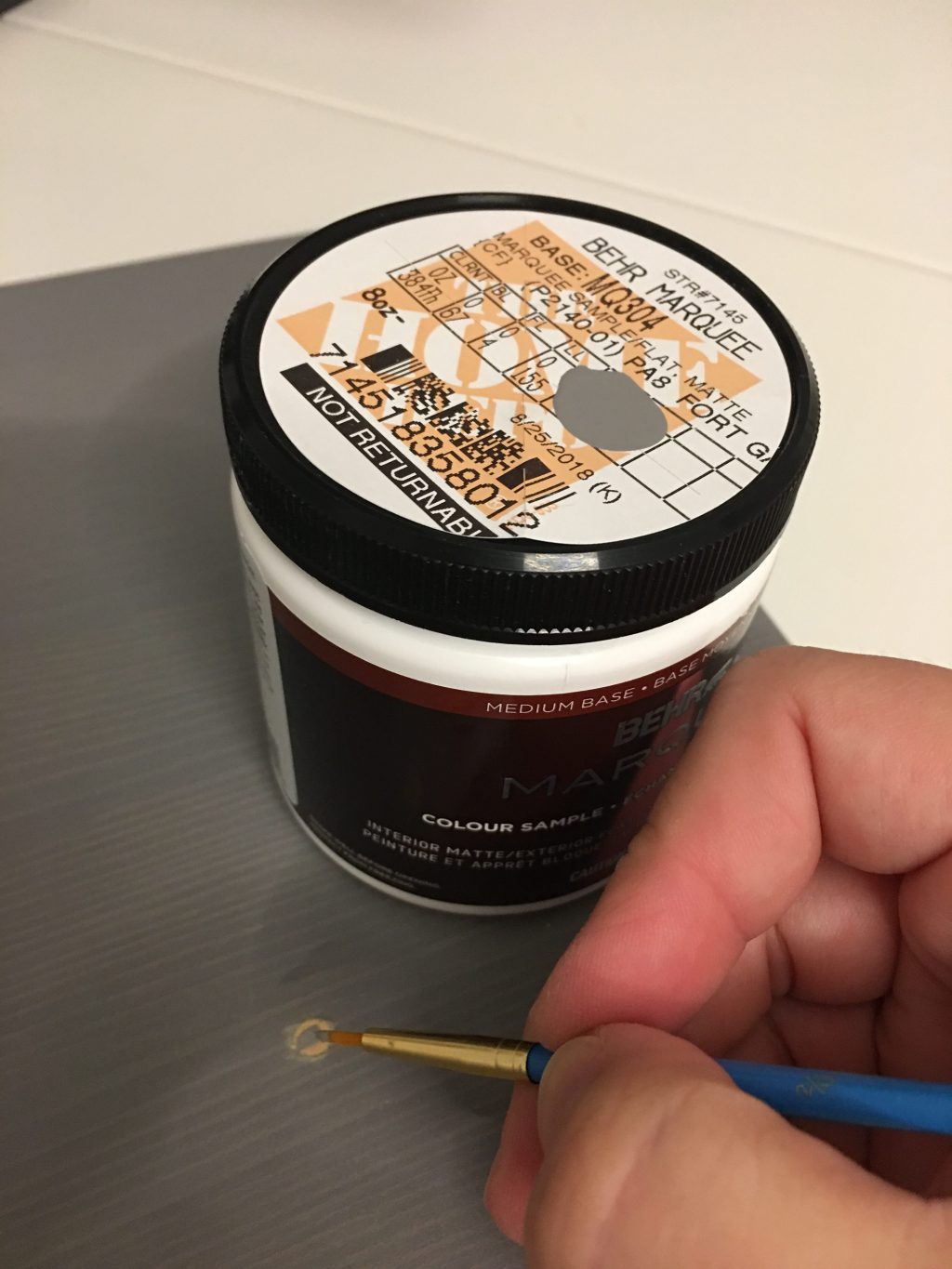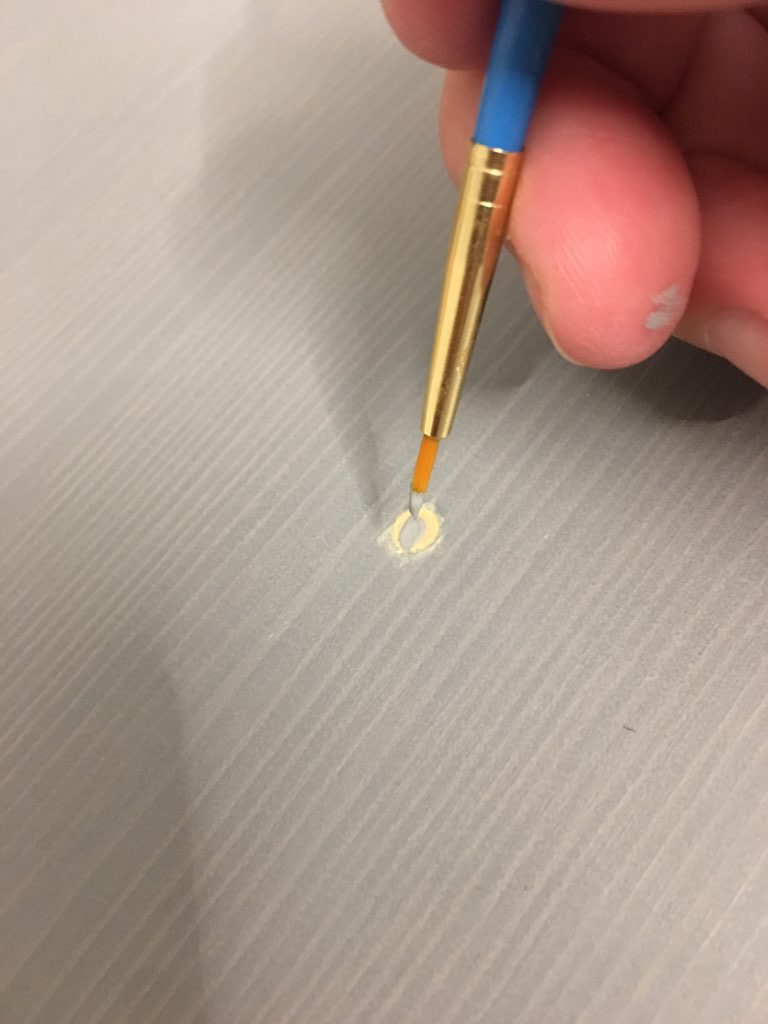 .
If you don't know it, you can barely see the filled holes, right?!
.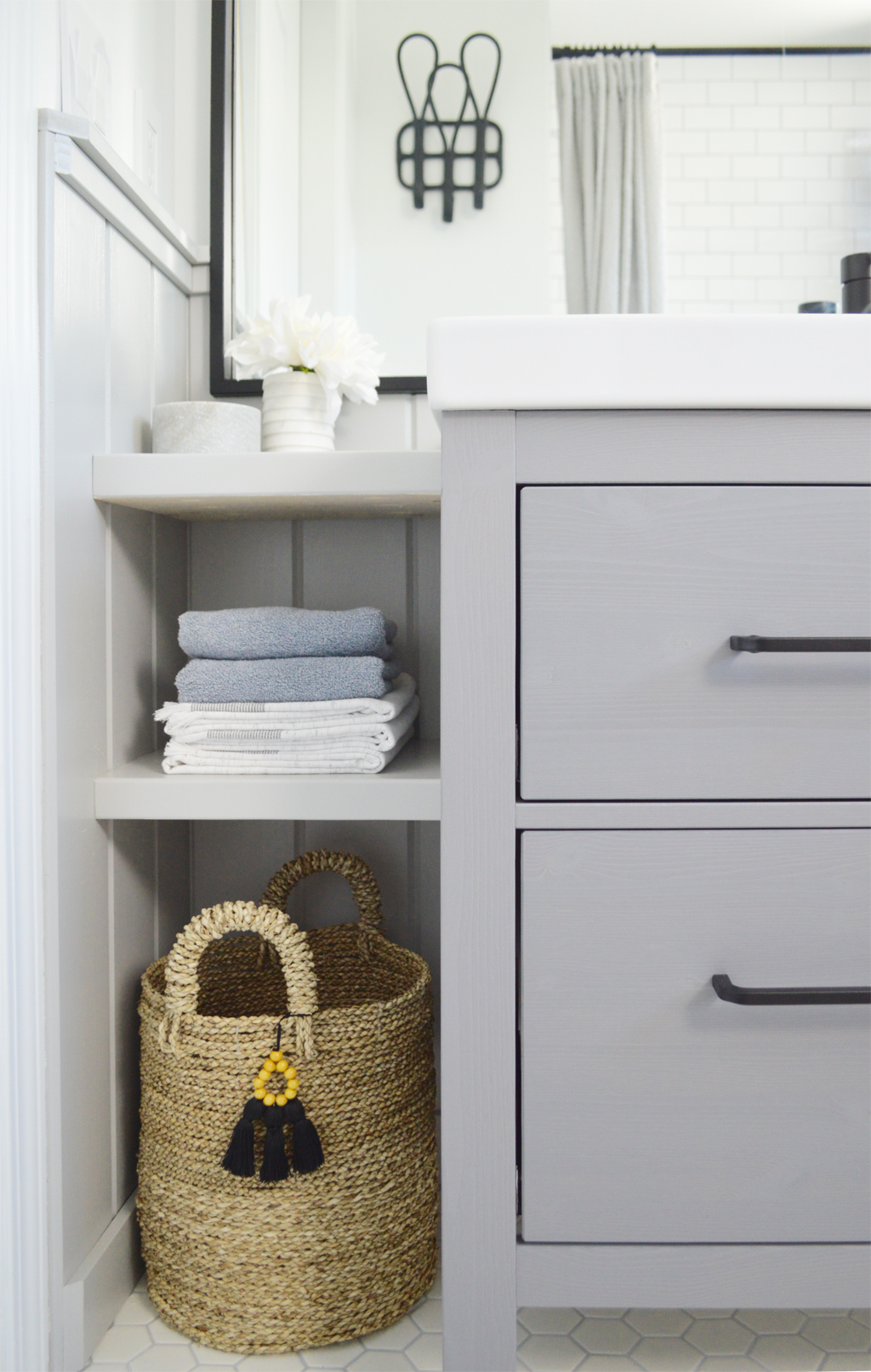 .
THE DIY SHELF

.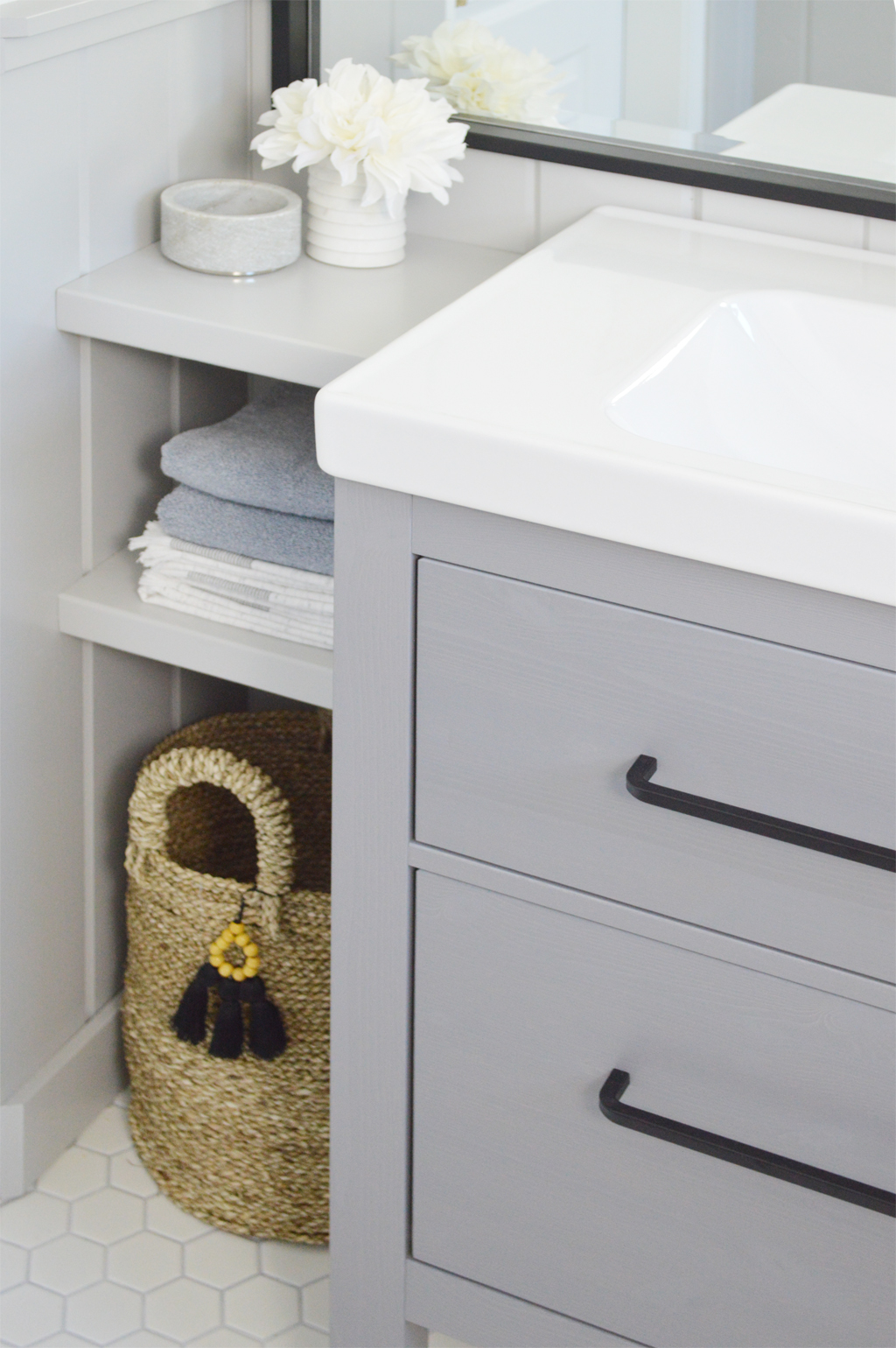 .
Since the bathroom is so small, I wanted a bit more space for nice decor. We used two solid pine wood boards for the shelf and mounted them between the vanity and the wall paneling.
I've painted them in the same colour as the wall paneling.
.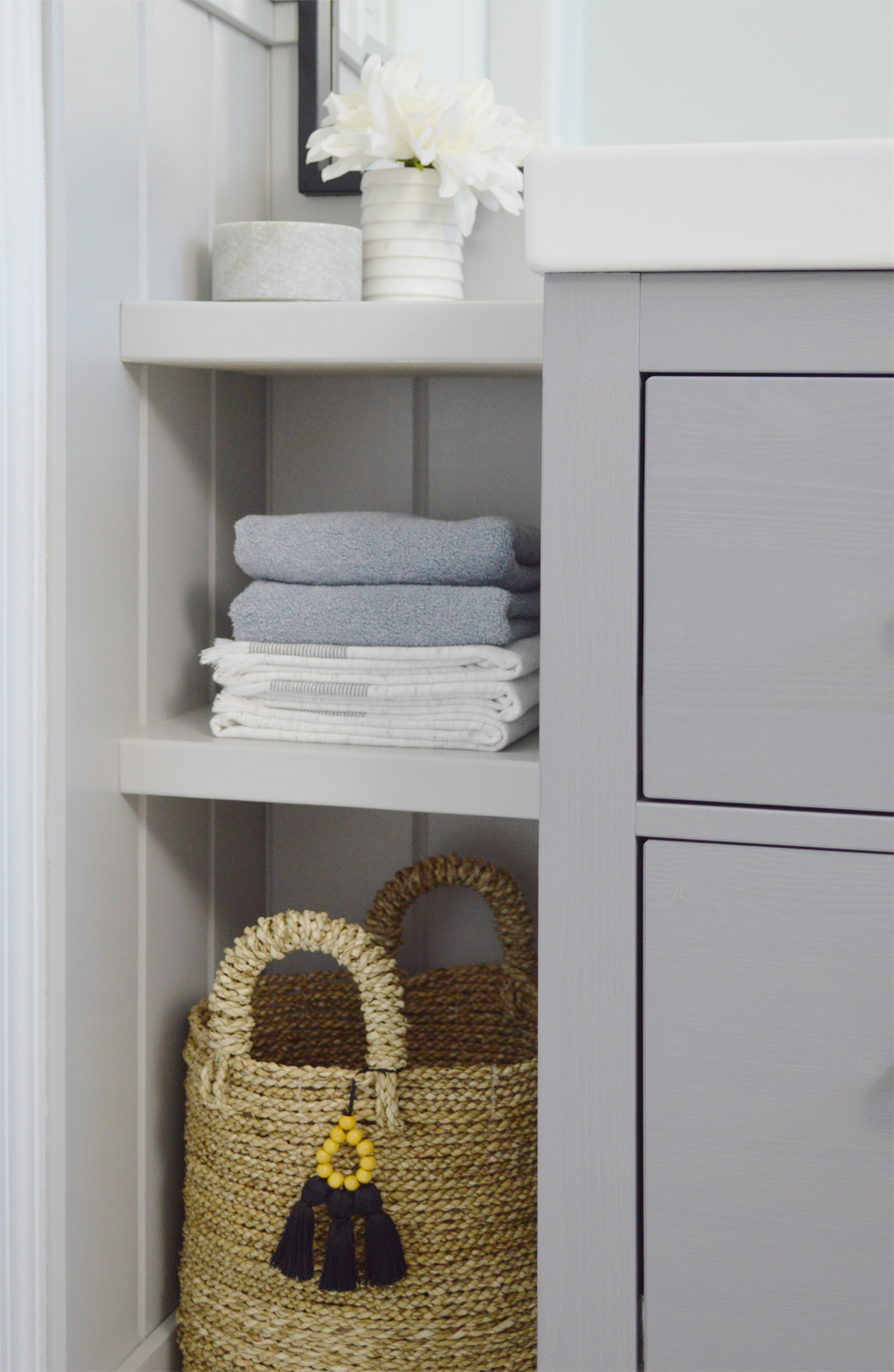 .
THE PEGS

.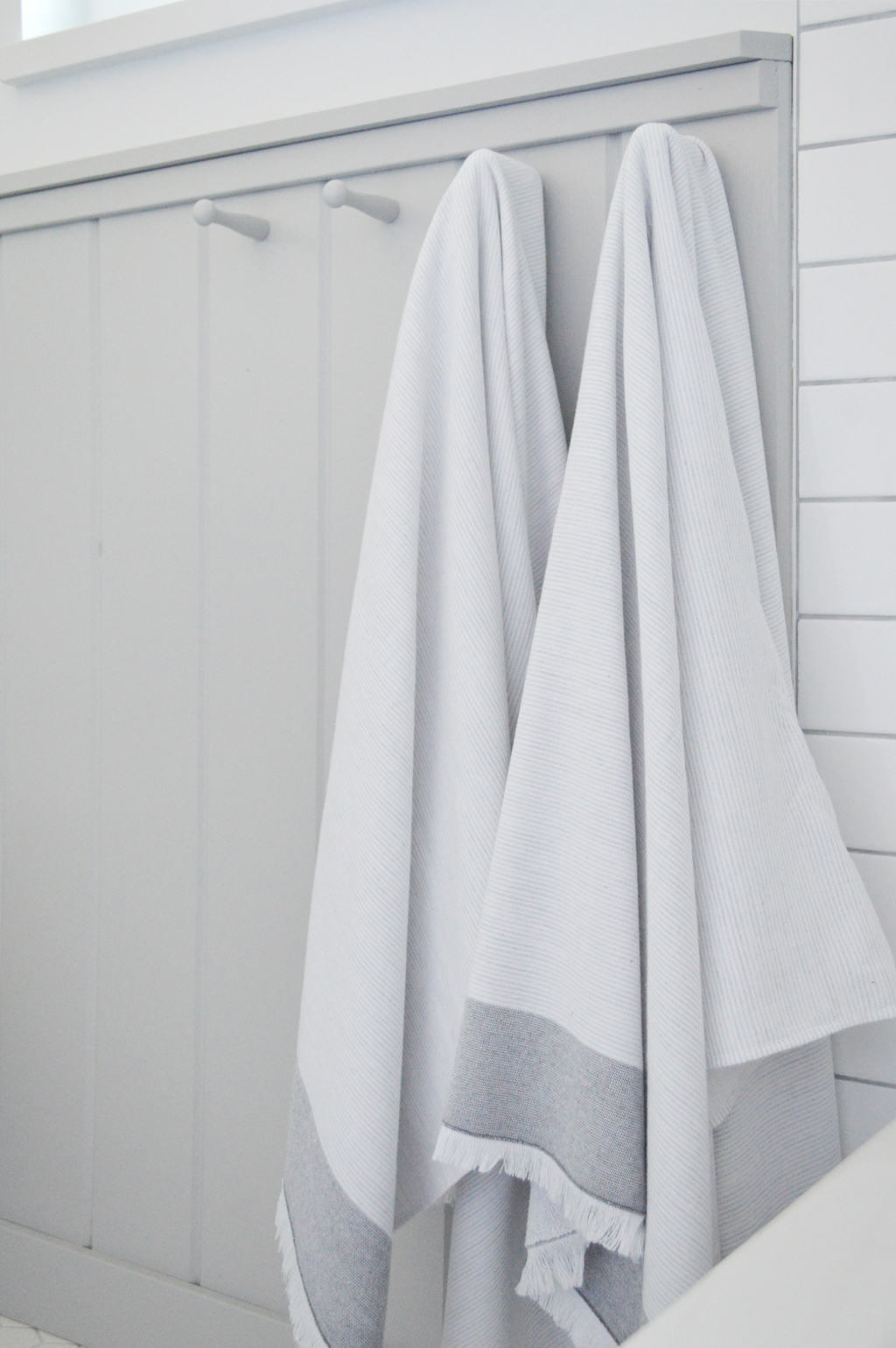 .
The idea with the pegs came pretty late and would be easy to do even if we were finished with everything. We bought the pegs in a set of 2 at Home Depot. I've painted them in the same colour as the wall paneling.
Our house is more traditional style and I think the pegs go really well with it.
.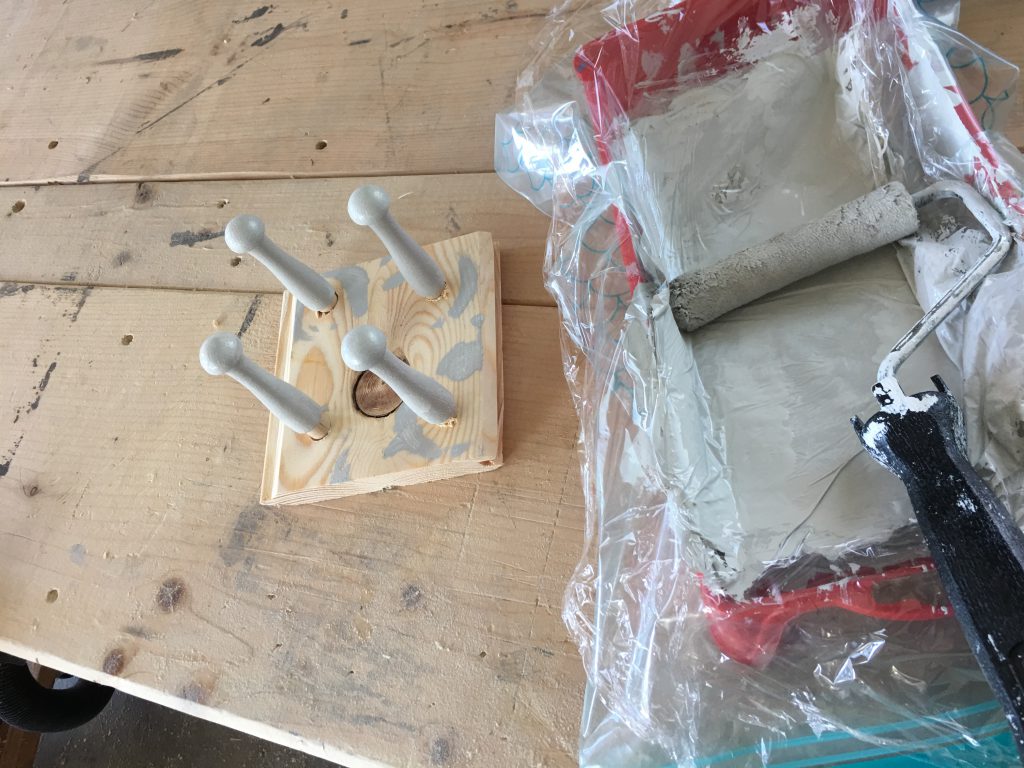 .


THE DECOR
.

I love how a flower, a towel and a soap dispenser give me a whole different vibe and change the look from cool & minimal to elegant.
.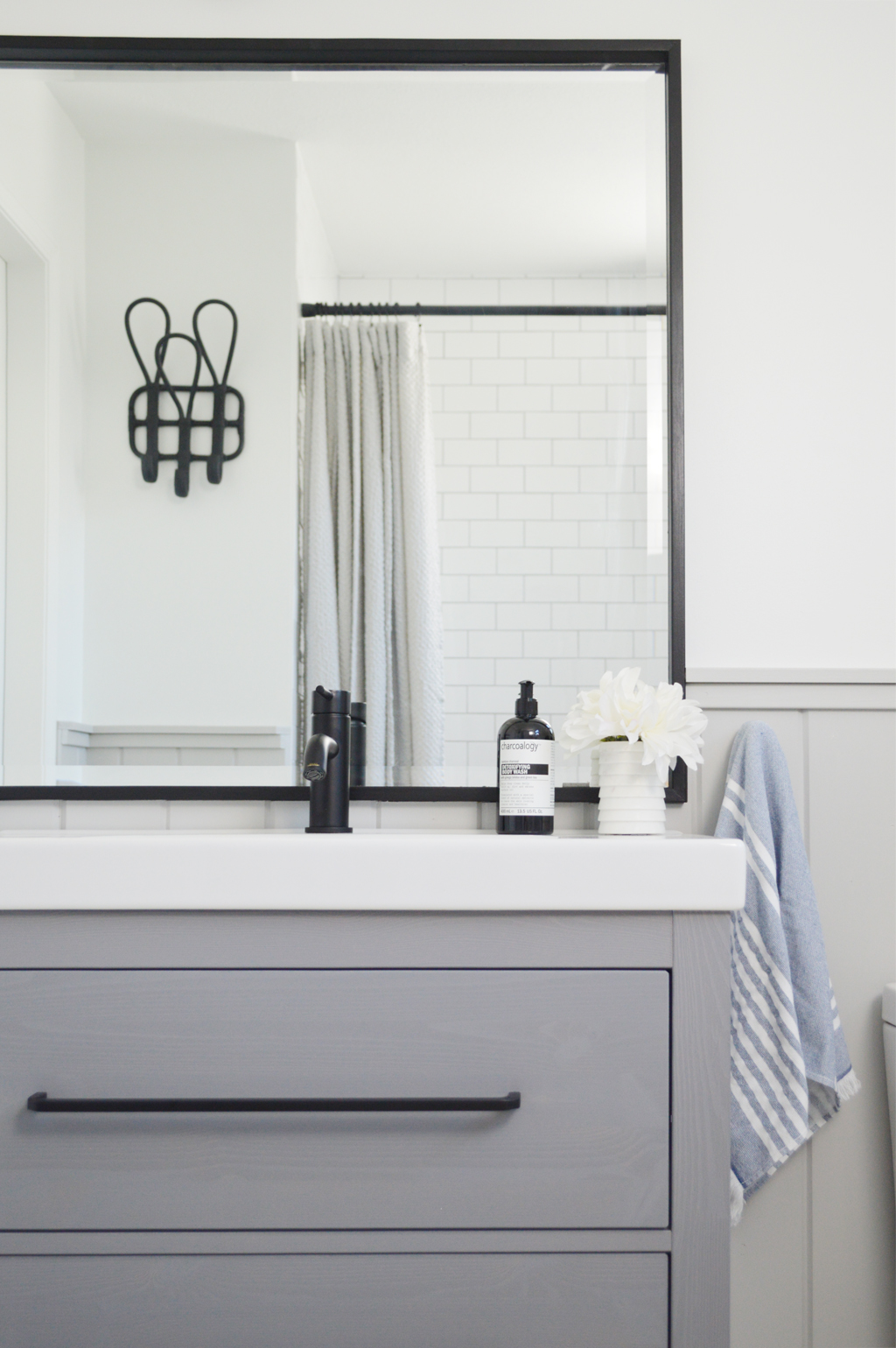 .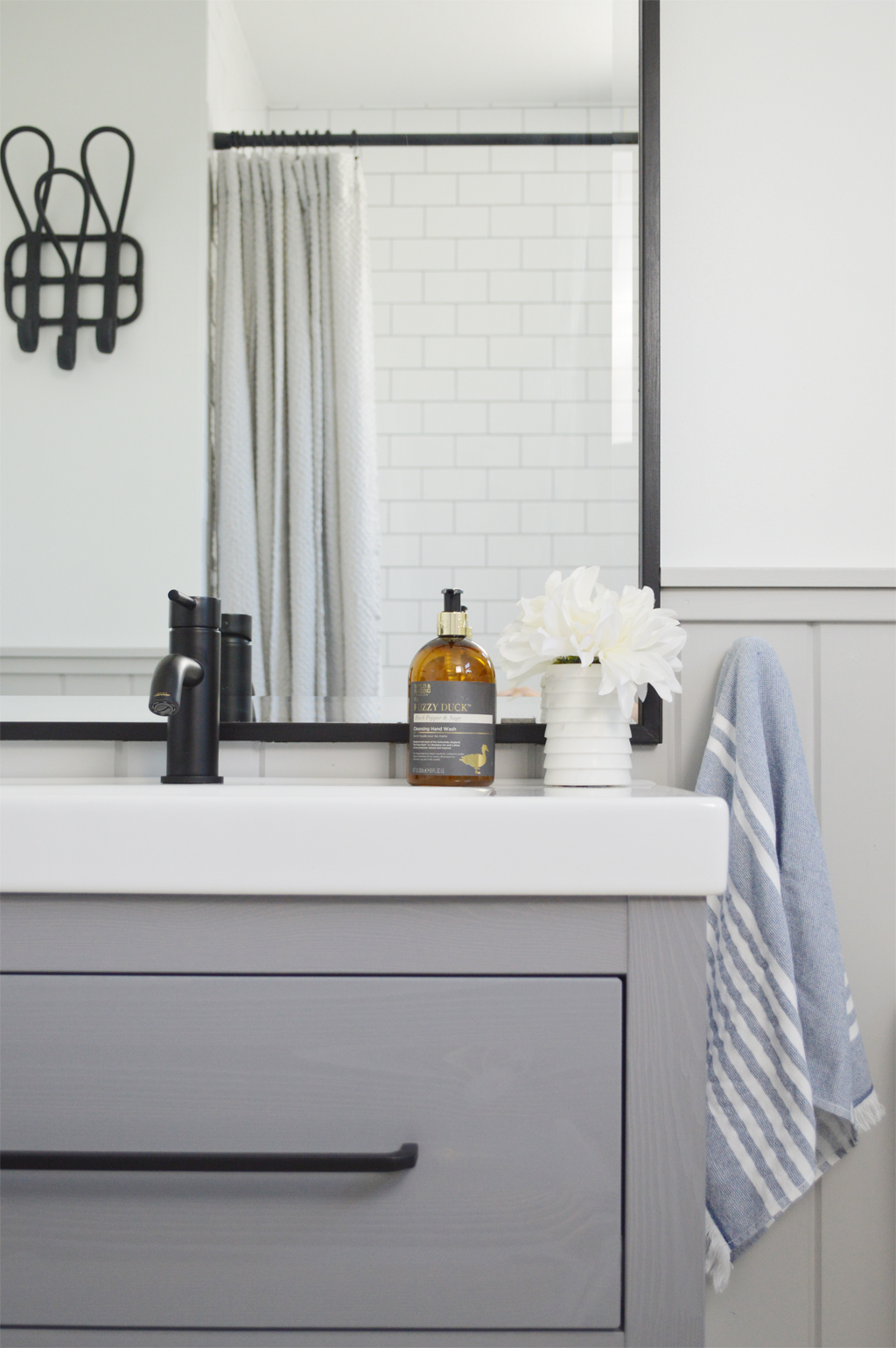 .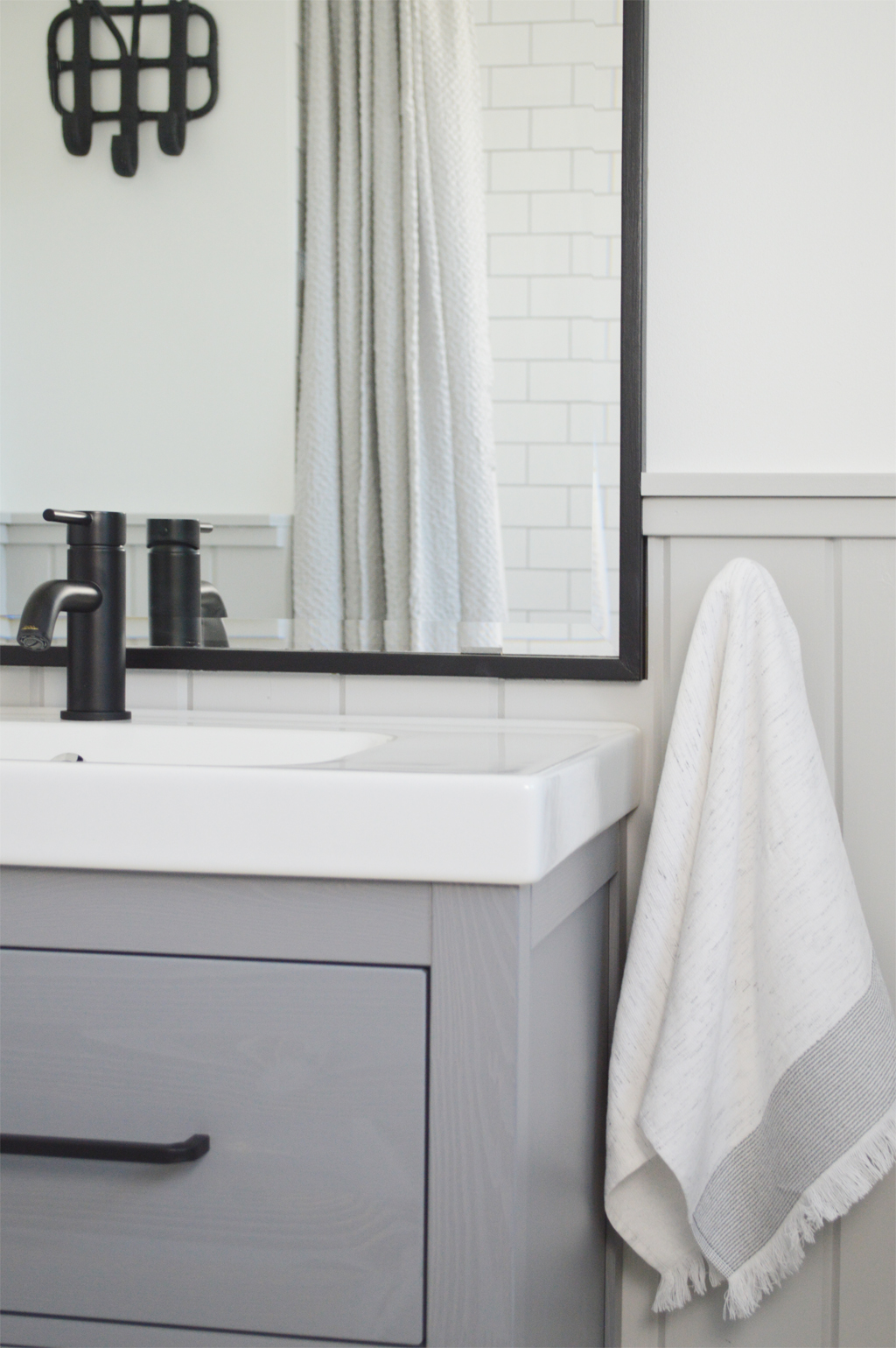 .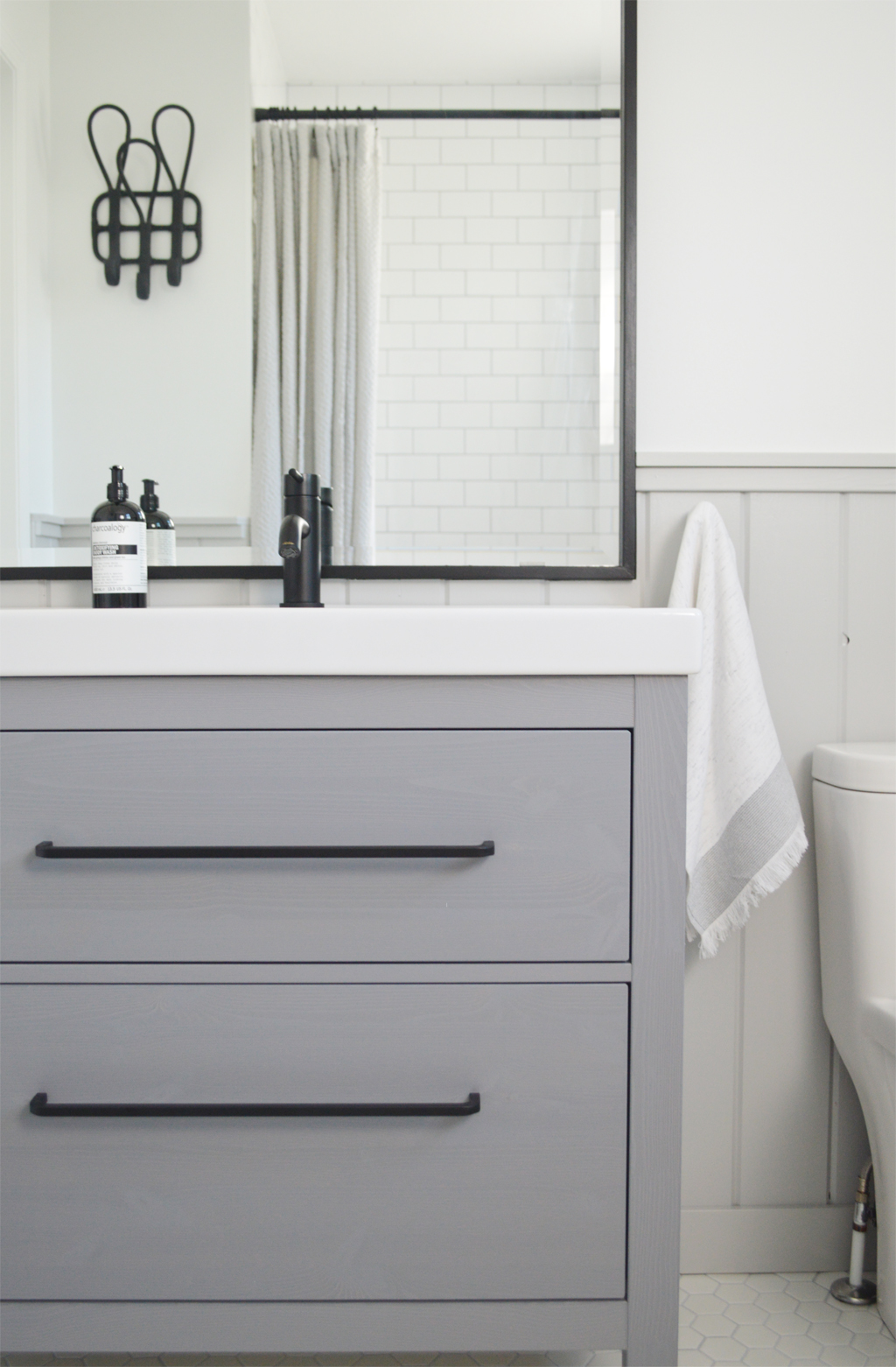 .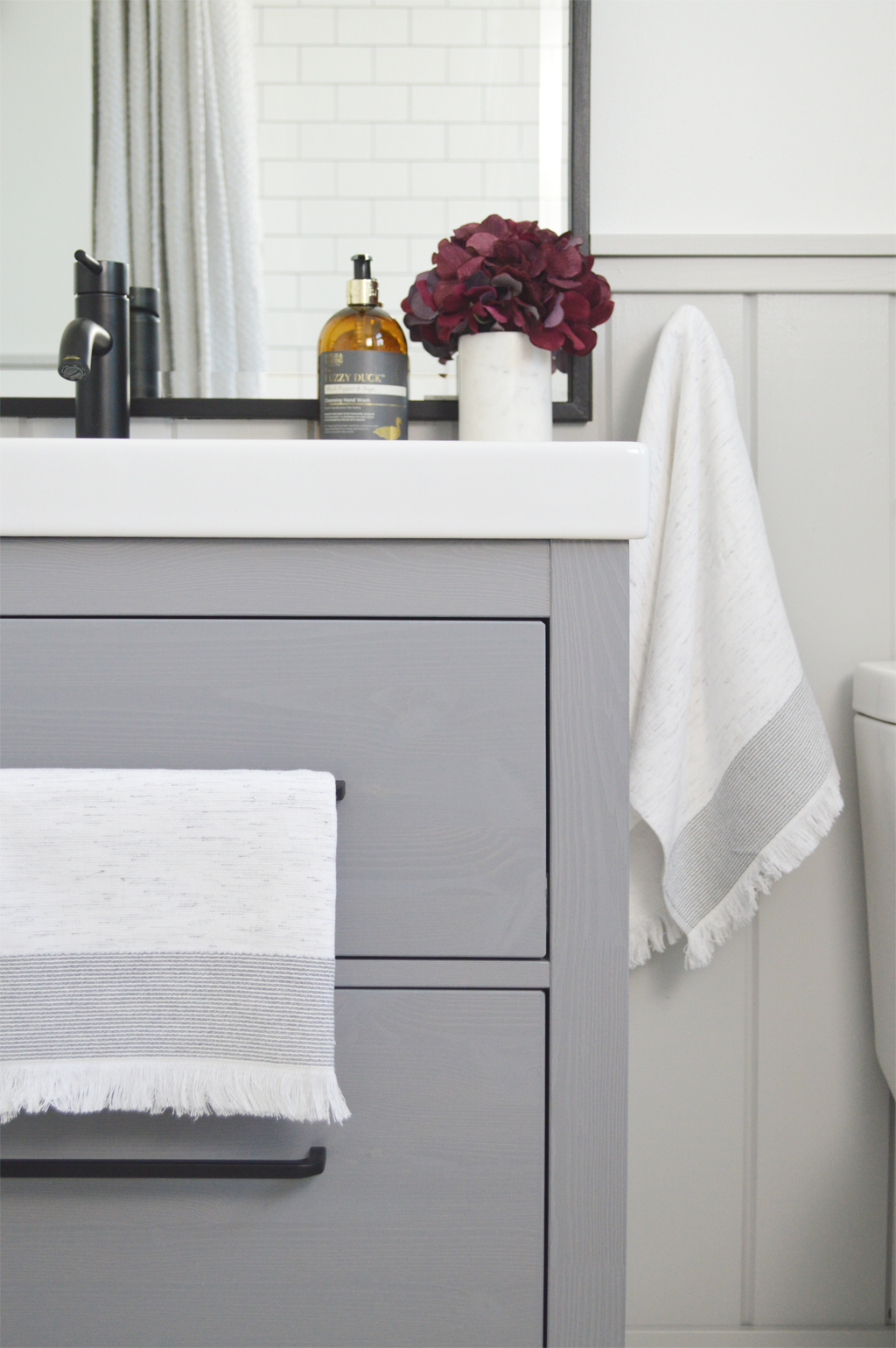 .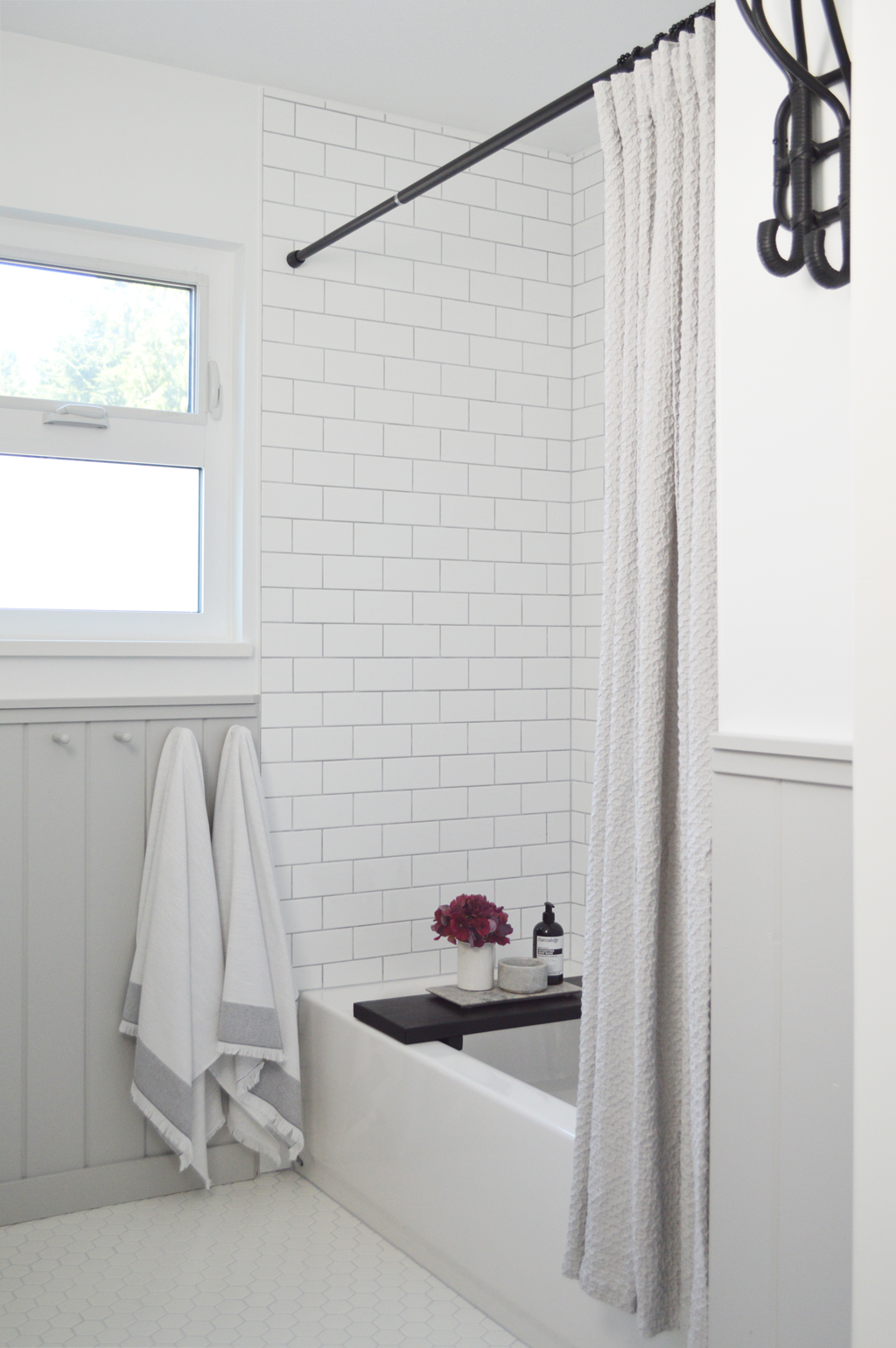 .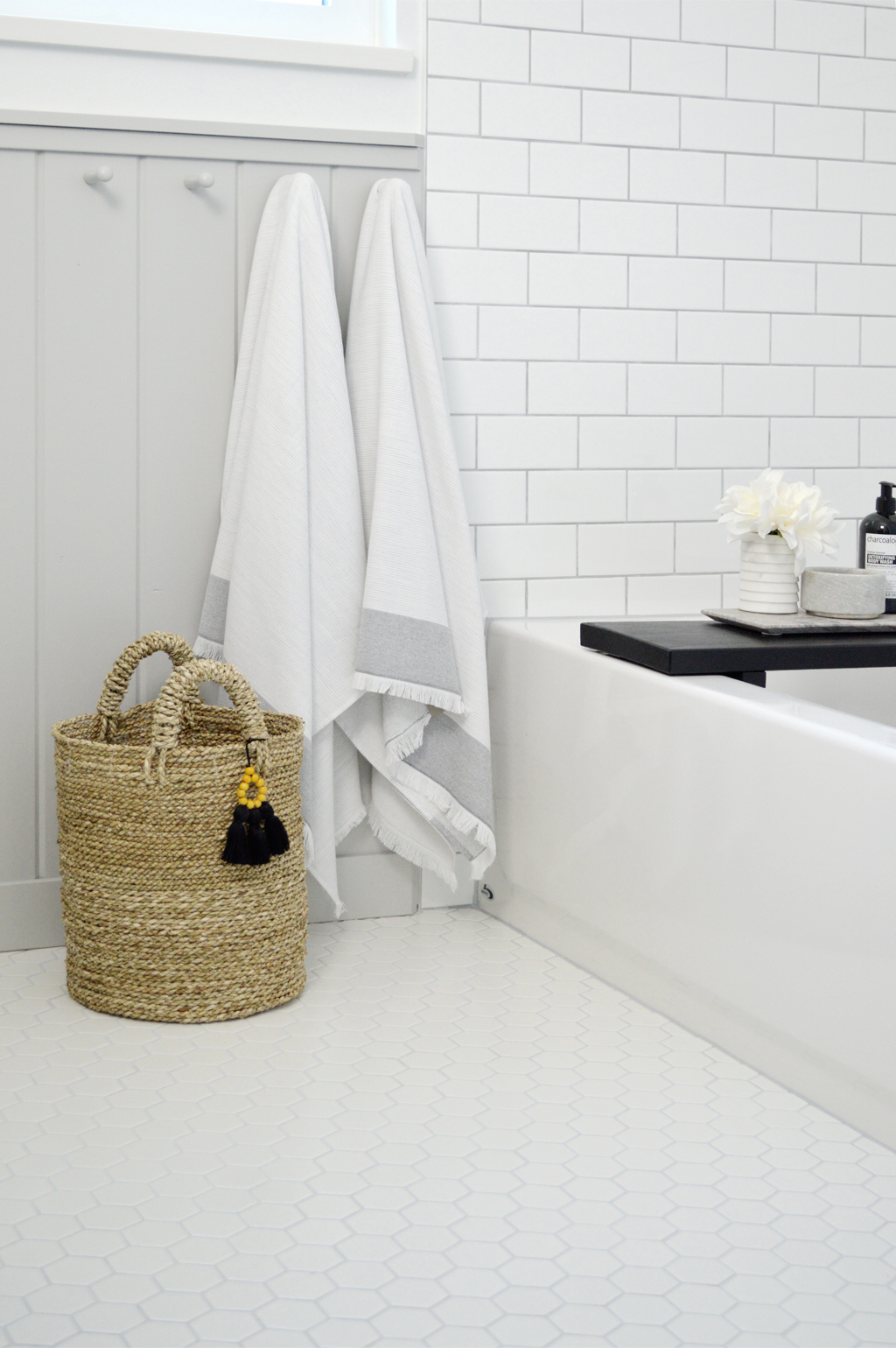 .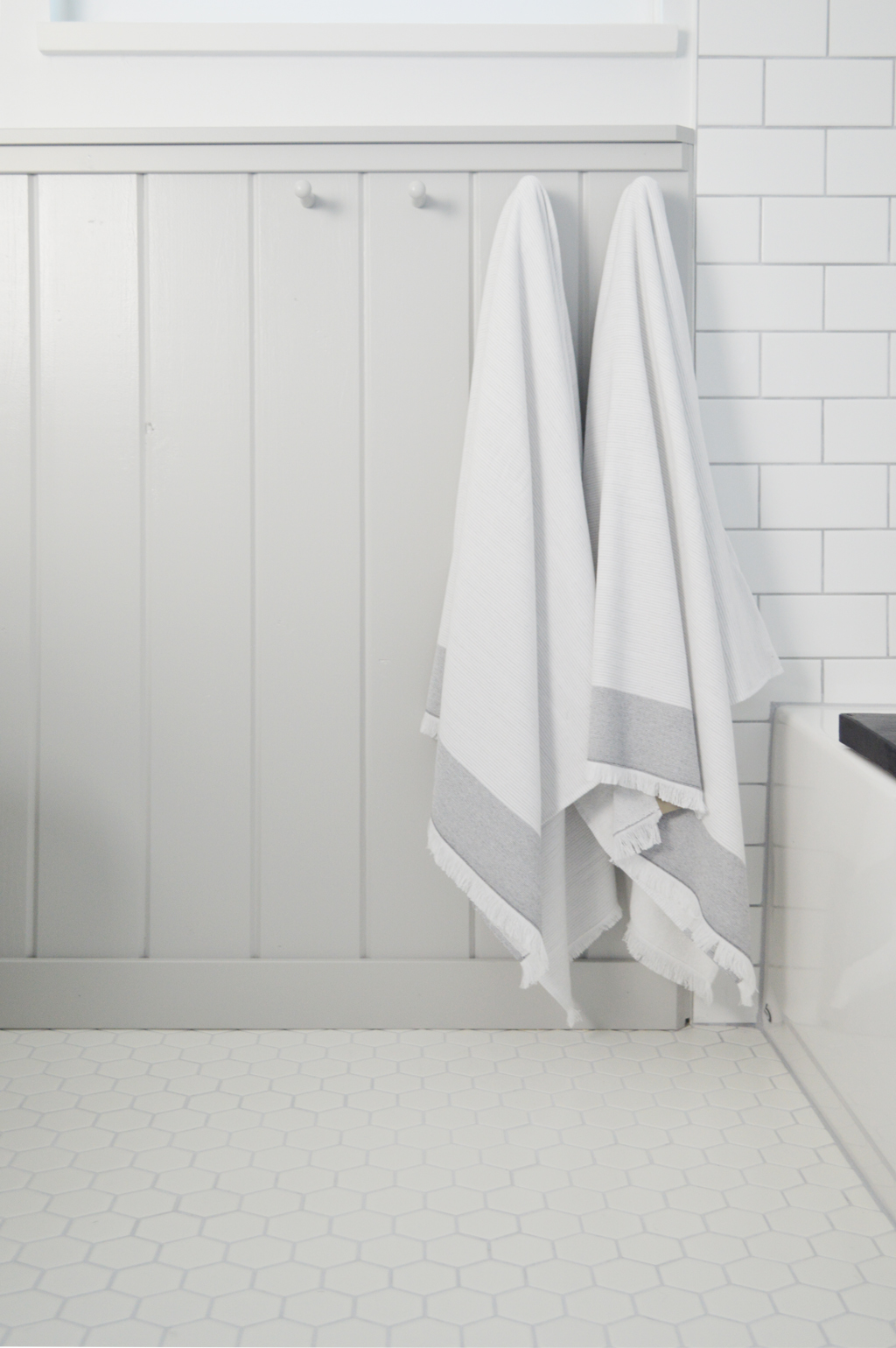 .
Please let me know if you have any questions.
To all my German readers, die ganze Badezimmer Renovierung lässt sich so natürlich auch in Deutschland realisieren. Ihr habt sogar die Möglichkeit den hässlichen Spülkasten einfach in einer Vorwandinstallation verschwinden zu lassen. Das habe ich hier, ungelogen, noch NIE gesehen. Geht bestimmt hier auch, ist aber sicherlich komplizierter an die Teile ranzukommen.
I promise to post our spectacular DIY Kitchen transformation soon.