Before & After: DIY Custom Mudroom Renovation On A Budget

Trend aus Nordamerika: Unser erster Mudroom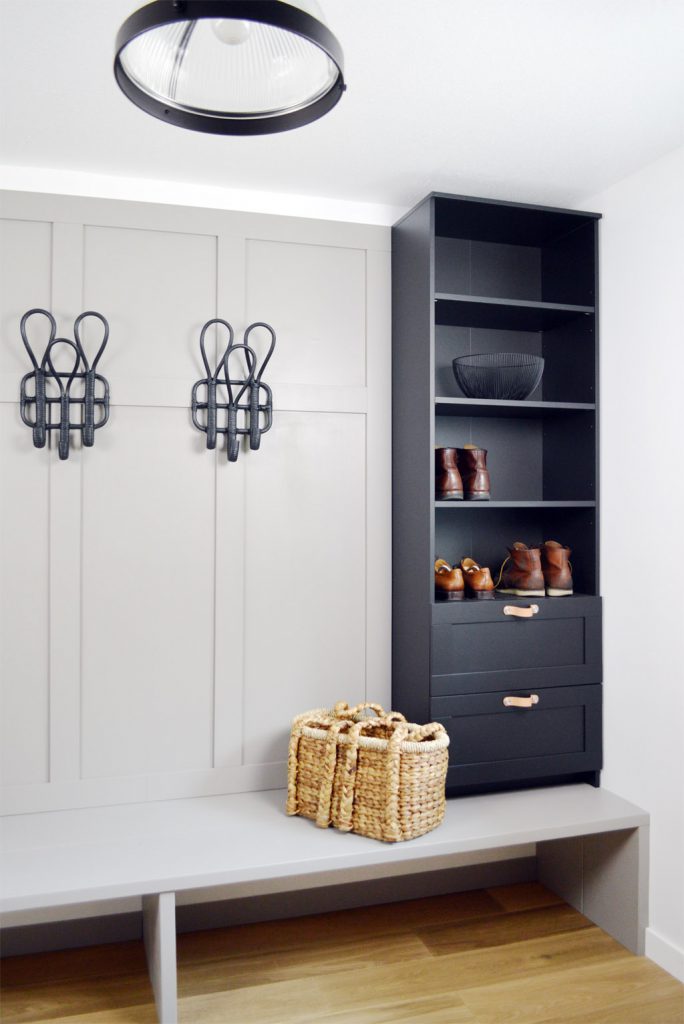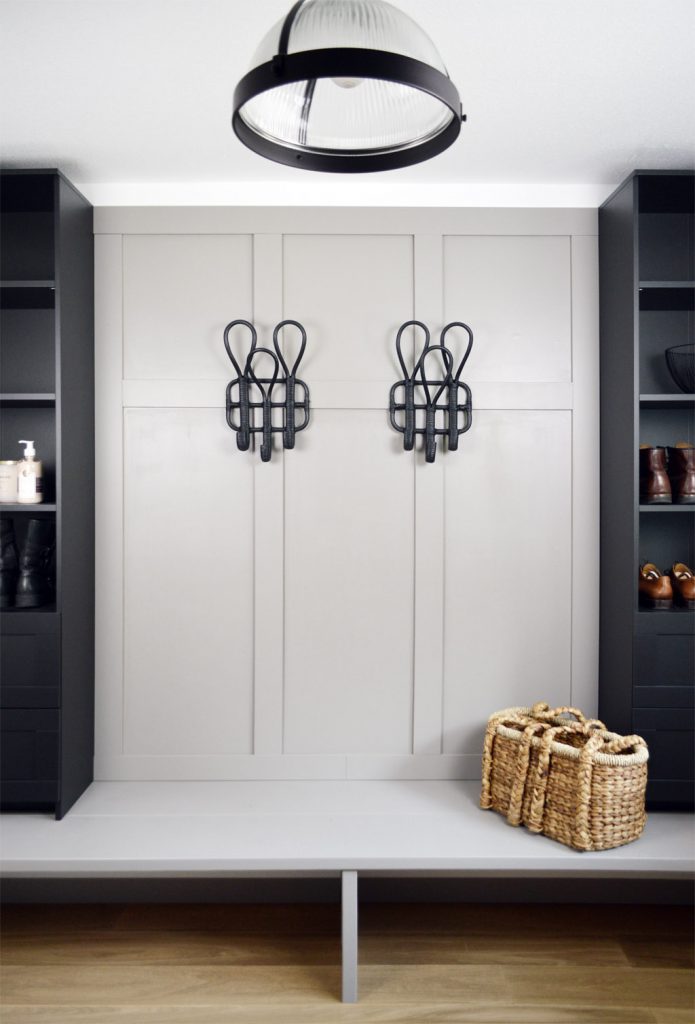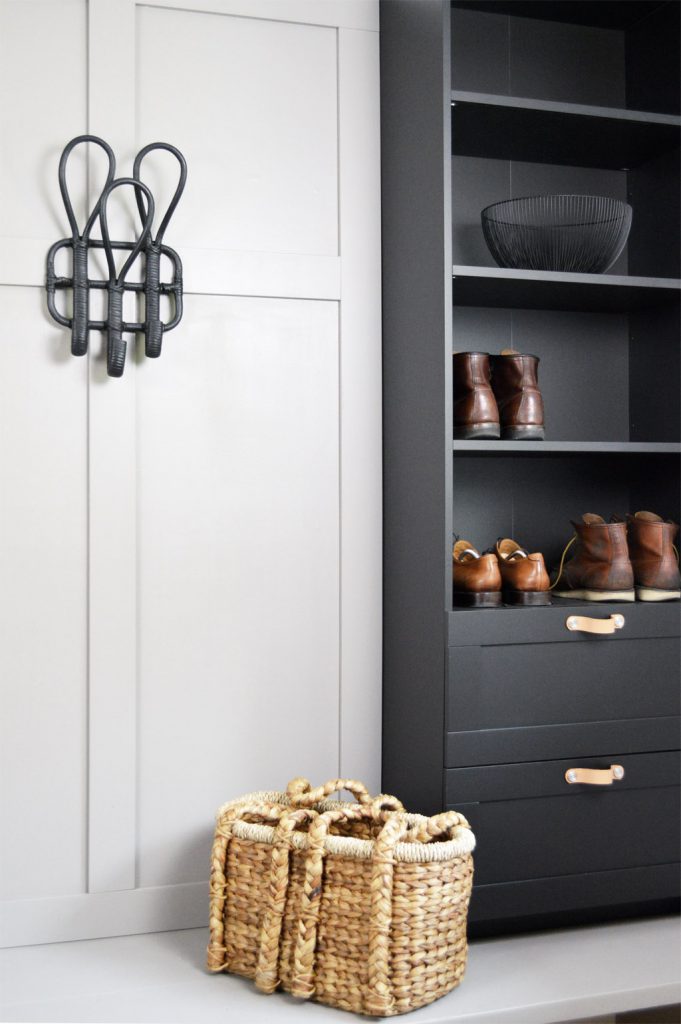 A beautiful and functional interior design doesn't have to be expensive. Today I reveal how we transformed a boring den into a custom mudroom.
We combined some DIYs (the bench and panelling) and two IKEA bookcases with an inexpensive pendant light from Home Depot and a pinch of texture (a basket and rattan hooks – which were on sale for $1 !!).
Learn how to get the custom look and see the before photo below.


Schon mal von einem Mudroom gehört? Ja, genau: Ein Schlammraum. Der Begriff kommt aus den USA und beschreibt einen Raum, der sich üblicherweise in Eingangsnähe befindet. Hier werden Schuhe und Jacken ausgezogen und aufbewahrt. Gerade im Herbst oder Winter sind die gerne mal dreckig – deswegen auch "Schlammraum".
In unseren Haus in Deutschland haben wir es einfach Garderobe genannt. Aber die Amis (und die Kanadier natürlich auch) haben ja für alles einen Raum, so gibt es zum Beispiel auch ein formelles Esszimmer, formelles Wohnzimmer und einen separaten Familien- oder Erholungsraum (wörtlich übersetzt).
Zurück zum Schlammraum. Oft sind Mudrooms mit maßgefertigten Einbauschränken und Regalen ausgestattet, was das ganze natürlich sehr kostspielig macht. Offener und geschlossener Stauraum bieten genug Möglichkeiten Schuhe und Kleidung aufzubewahren. Und für ein bisschen Deko ist auch immer Platz.
Für unseren ersten Mudroom haben wir uns für einen Mix aus selbstgemachten maßgefertigten Elementen und Ikea Möbeln entschieden. Richtig kombiniert, sieht das like a million bugs aus (würden die Nordamerikaner jetzt sagen).
Zuvor wurde der Raum als "Den" genutzt. Ich bezeichne es mal als Rumpelkammer. Hier das Vorher Foto:
This is how the room looked like when we viewed the house for the very first time:
So sah das Zimmer bei der ersten Hausbesichtigung aus: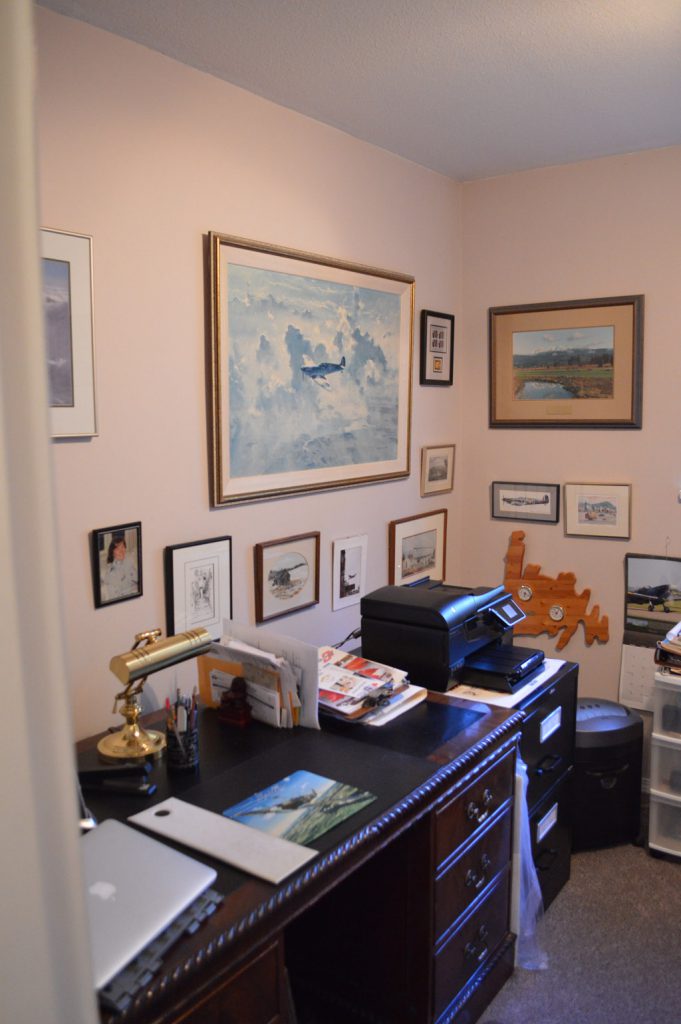 The After:
Das Nachher Photo: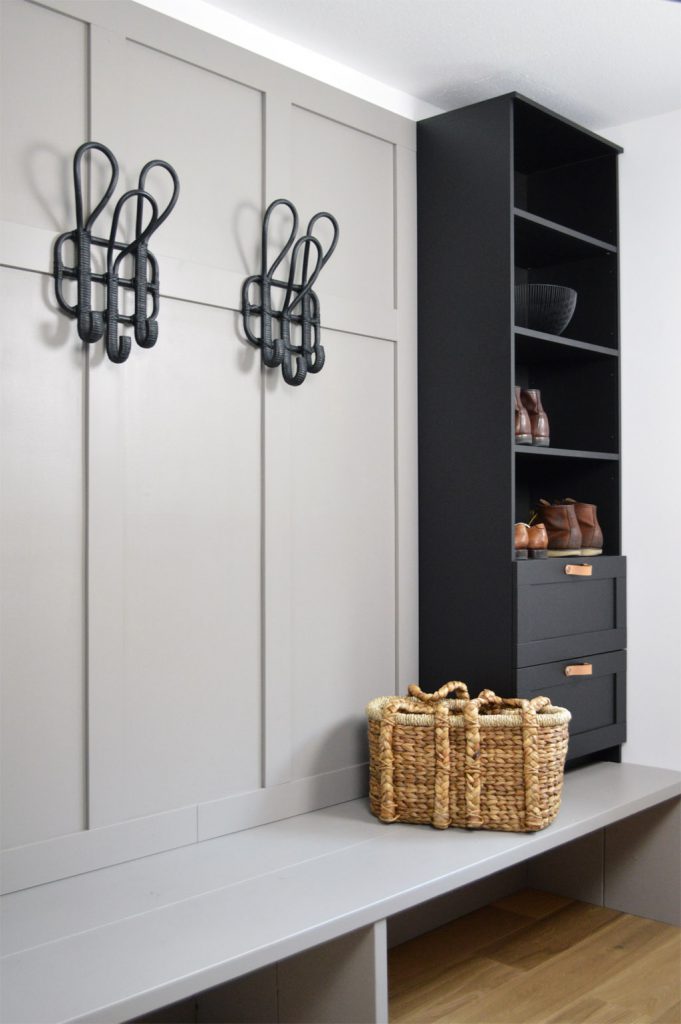 HOW TO GET THE CUSTOM LOOK?
1. Build The Bench

The most important thing in a mudroom is a sturdy bench. We wanted a deep seat and used two thick pine boards to get the depth for both the seat and the legs.
I've painted the boards in a muddy grey and sanded it between the two coats. Even though I love matte or flat finishes, I went with an eggshell enamel for more durability and easier care. Since I wanted a rustic look I didn't fill the knotholes and cracks with wood filler.
We glued the legs to the wall and screwed the seat boards to the legs from below so we don't see any screws.


Die Sitzank bauen
Das wohl wichtigste in jedem Mudroom ist die Sitzgelegenheit.
Eine Sitzbank ist schnell und günstig selbst gebaut. Damit sie so richtig stabil ist, lasse Dir im Baumarkt einfach ein paar dicke Holzbohlen zuschneiden. So musst Du sie Zuhause nur noch lackieren und zusammenbauen.
Tipp: Je nach Länge solltest Du noch ein drittes Bein in der Mitte der Sitzbank einplanen. Schließlich muss die Bank nicht nur Personen, sondern auch die Regale tragen können.
Ein besonders schönes und robustes Lackierergebnis erhältst Du, wenn Du zwischen zwei Lackiervorgängen die Flächen leicht anschleifst. Der Lack muss dafür durchgetrocknet sein.
Wenn Deine Bank von Wand zu Wand geht, kannst Du die lackierten Beine einfach mit Baukleber an die Wand kleben. Trage den Kleber punktuell auf die Rückseite der Bretter auf und presse die Stücke an die Wand.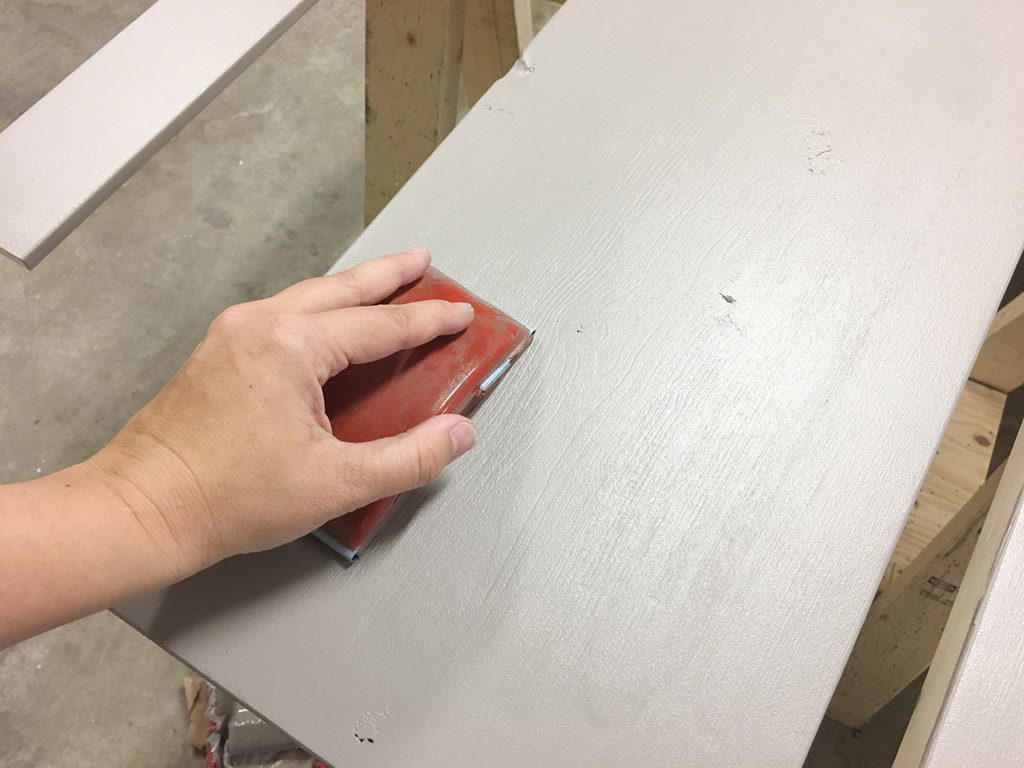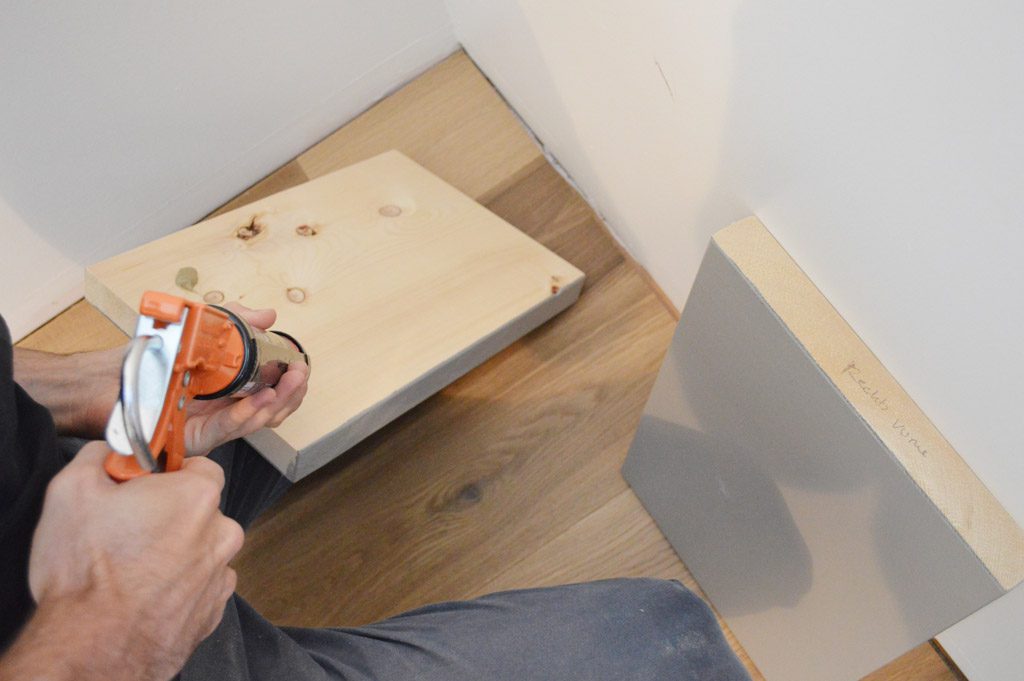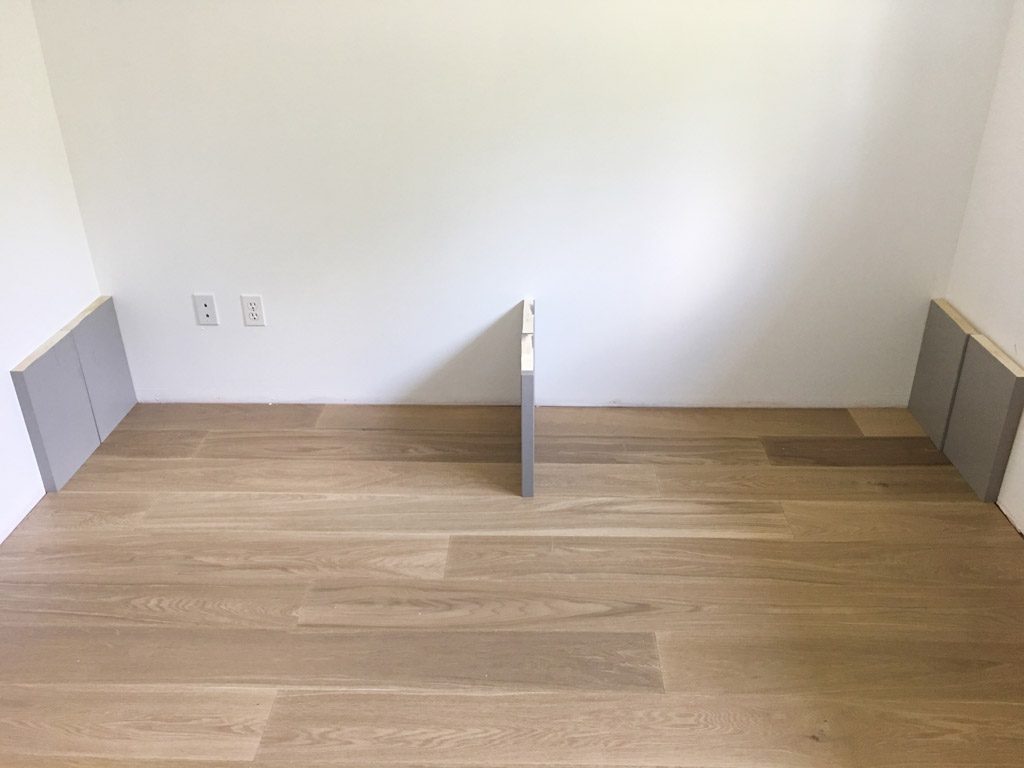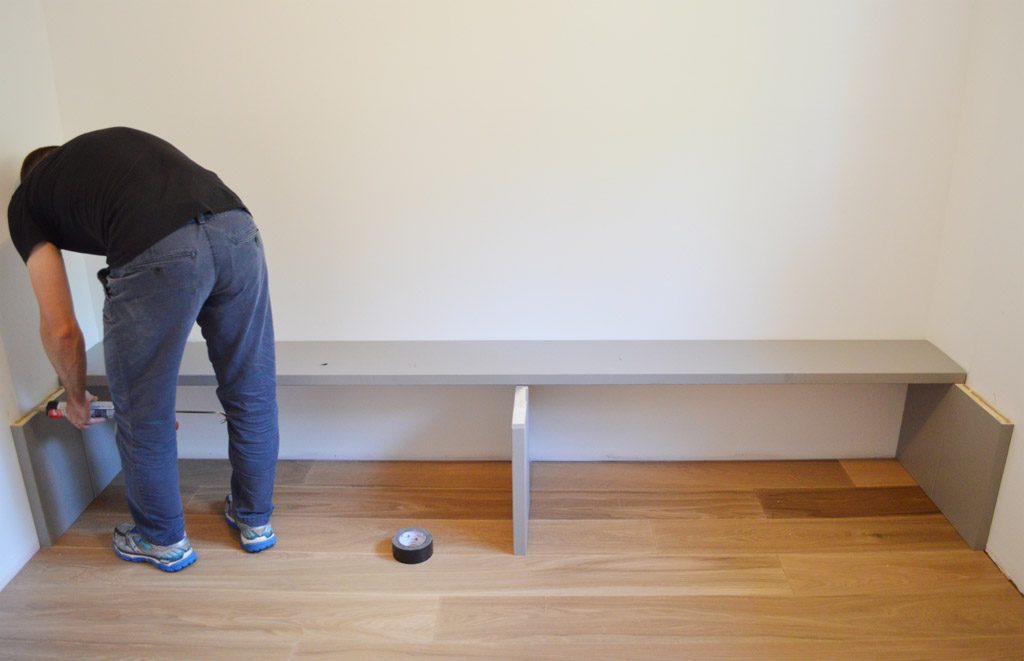 2. Assemble The Bookcases
To save on budget we purchased two black Brimnes bookcases from Ikea and replaced the handles with the Östernäs leather handles from Ikea.
We assembled the bookcases and secured them to the wall.


Bücherregale aufbauen
Für den nötigen Stauraum kannst Du einfach Bücherregale mit Schubladen aus dem Möbelladen verwenden. Ich habe zwei schwarze Brimnes Bücherregale von Ikea verwendet und die Griffe gegen Ledergriffe von Ikea ausgetauscht. Die zusammengebauten Regale stellst Du auf die Bank und befestigst sie zur Sicherheit noch an der Wand.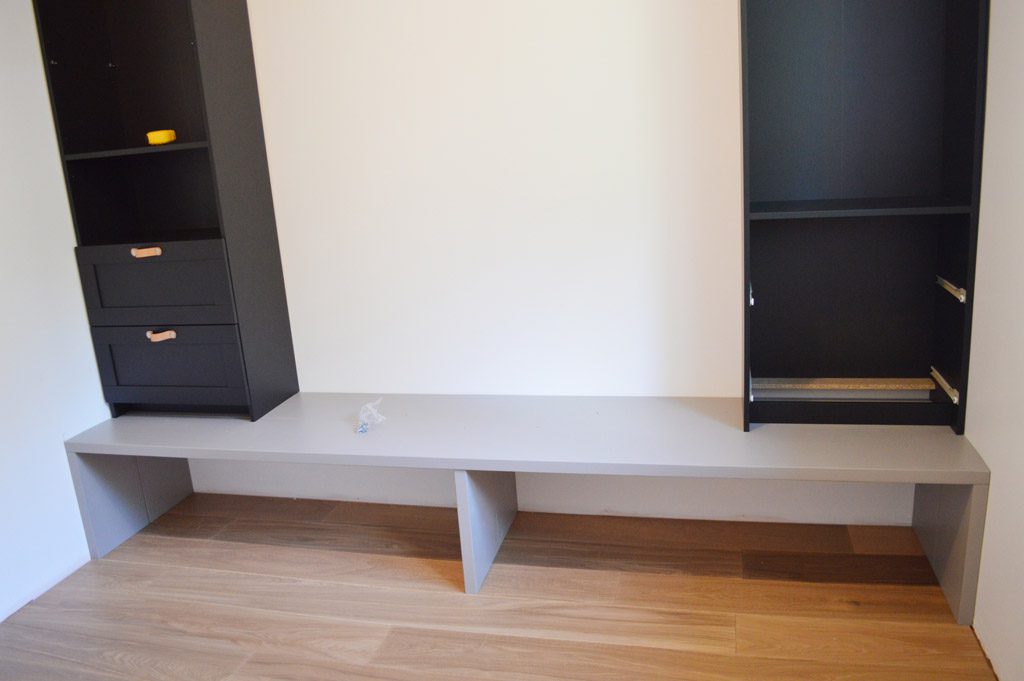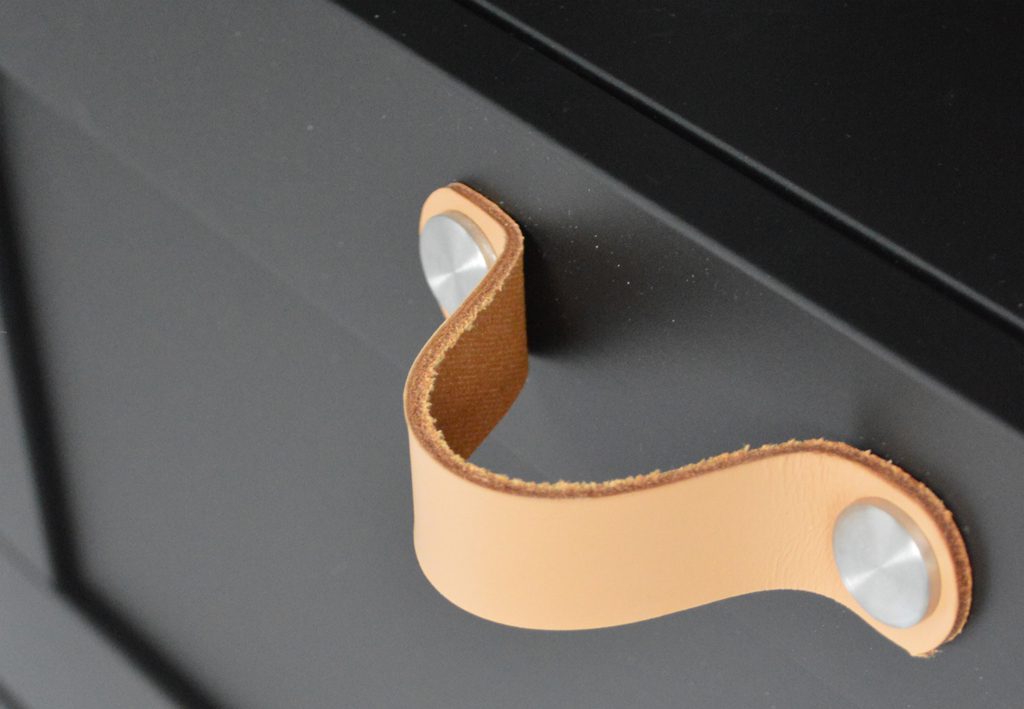 3. Install The Wall Panelling
We used a primed fibreboard board for the wall panelling. This is an easy and budget friendly way to add more interest to the wall between the two bookcases. I've painted it in the same color as the bench.


Wandverkleidung
Damit alles wie aus einem Guss wirkt, erhält die Wand zwischen den Regalen eine Verkleidung und einen Anstrich in der gleichen Farbe wie die Bank. Mit ein paar schmalen Leisten kannst Du diesen Look schnell nachbauen. Klebe oder nagele die lackierten Leisten in einem Raster an die Wand. Ich habe den Wandabschnitt einfach in Drittel geteilt.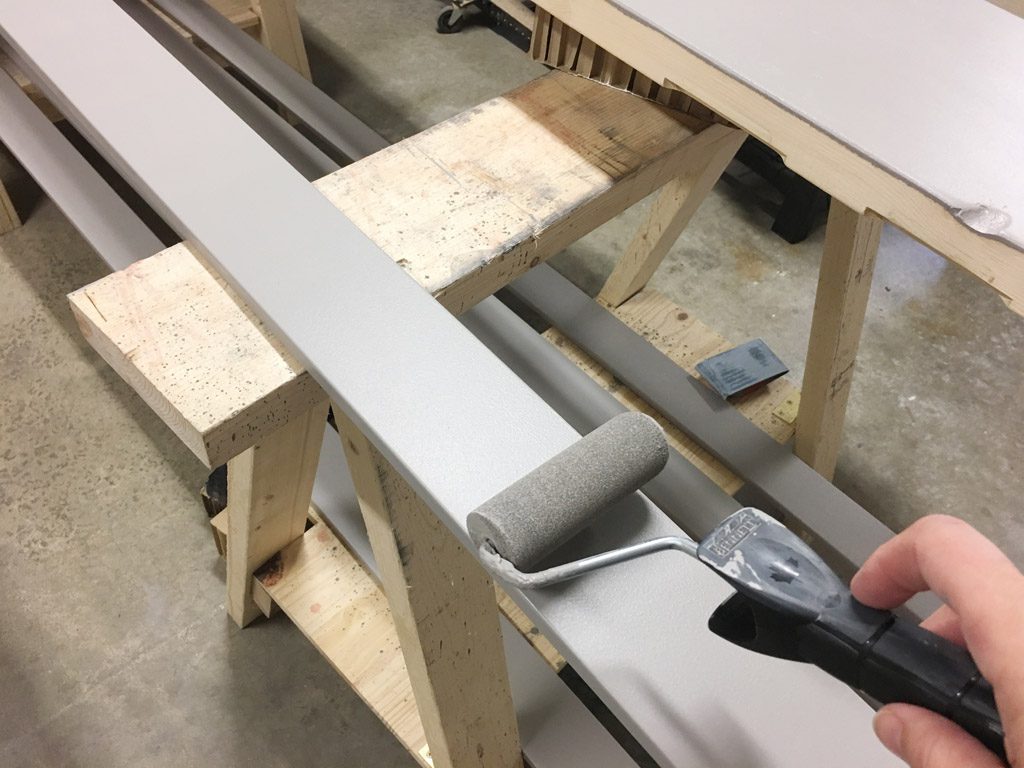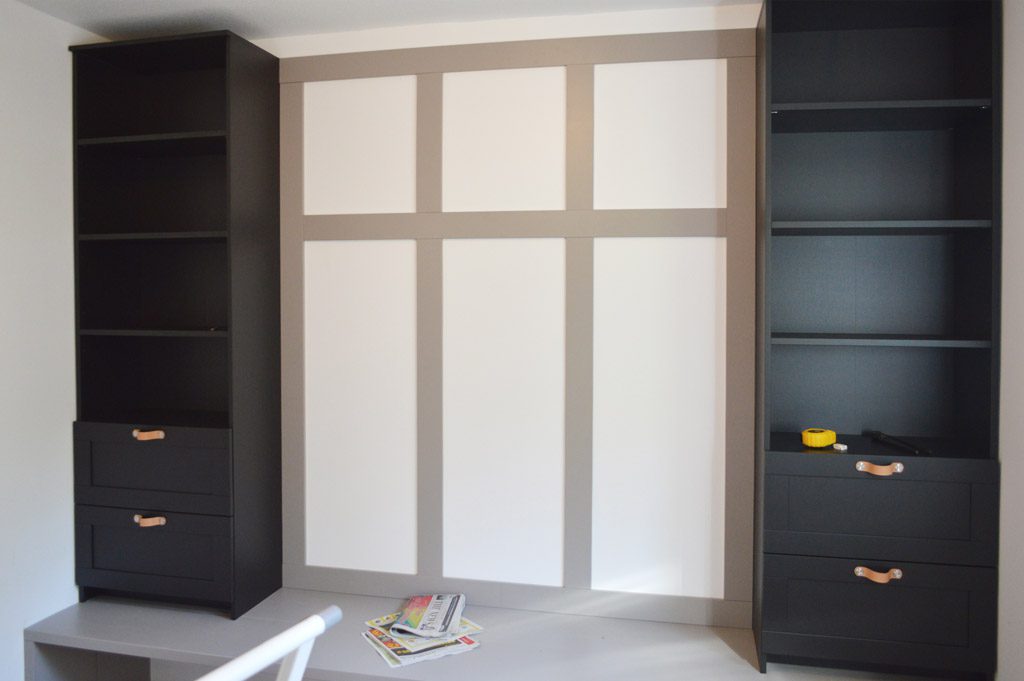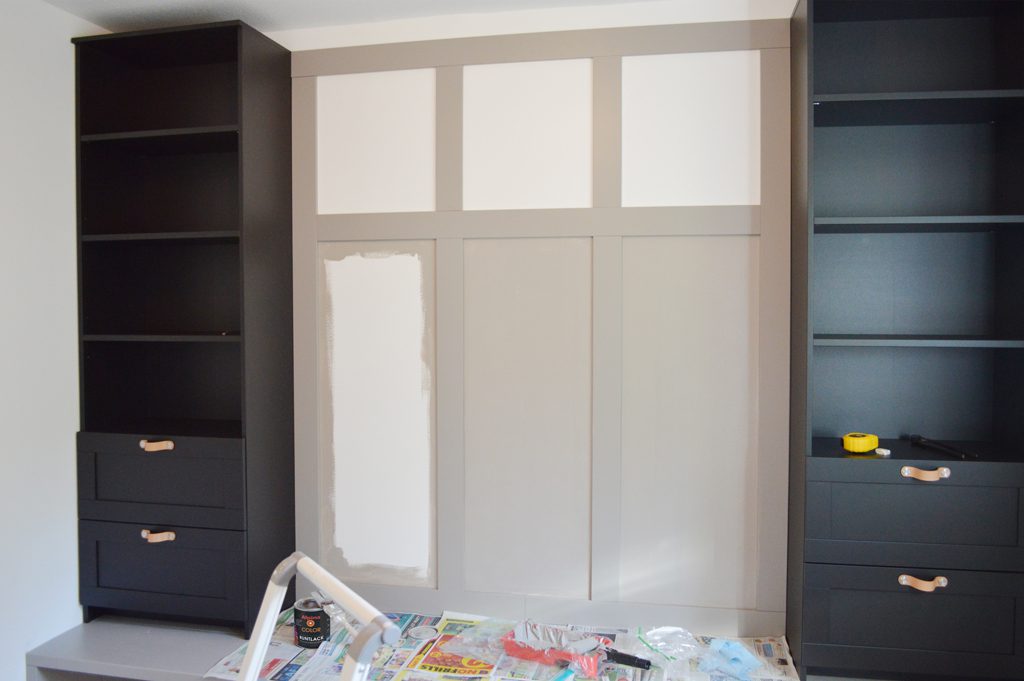 4. It's All About The Details
If you want a custom luxurious look it is important to pay attention to the details:
+ Paint the wall in the exact same color as the bench
+ Install the wall panelling and bookcases at the same height
+ Repeat colors throughout your room. We've installed a black pendant light and black hangers to pick up the black color of the bookcases.
+ You can easily change the handles. I used leather ones because they perfectly fit to all the brown leather shoes LOL.
+ The right decoration is the magic ingredient to turn a simple room into an expensive looking space. I kept it simple and decorated with a big hand-woven basket and a sculptural black bowl.


Für einen maßgeschneiderten Look, solltest Du auf folgende Dinge achten:
+ Besonders gut sieht es aus, wenn die oberste Leiste exakt mit dem Regal auf einer Linie ist.
+ Stimme Accessoires wie Deko und Garderobenhaken farblich aufeinander ab.
+ Griffe sind ruckzuck ausgetausch. Achtedabei nur darauf, dass der Lochabstand passt. Ich habe die schlichten schwarzen mitgelieferten Griffe gegen edle Griffe aus Leder getauscht.
+ Körbe machen sich in Mudrooms besonders gut und sind typische Deko in solchen Räumen. Sie sind robust, unempfindlich und bieten Platz für Schals, Mützen und Regenschirme.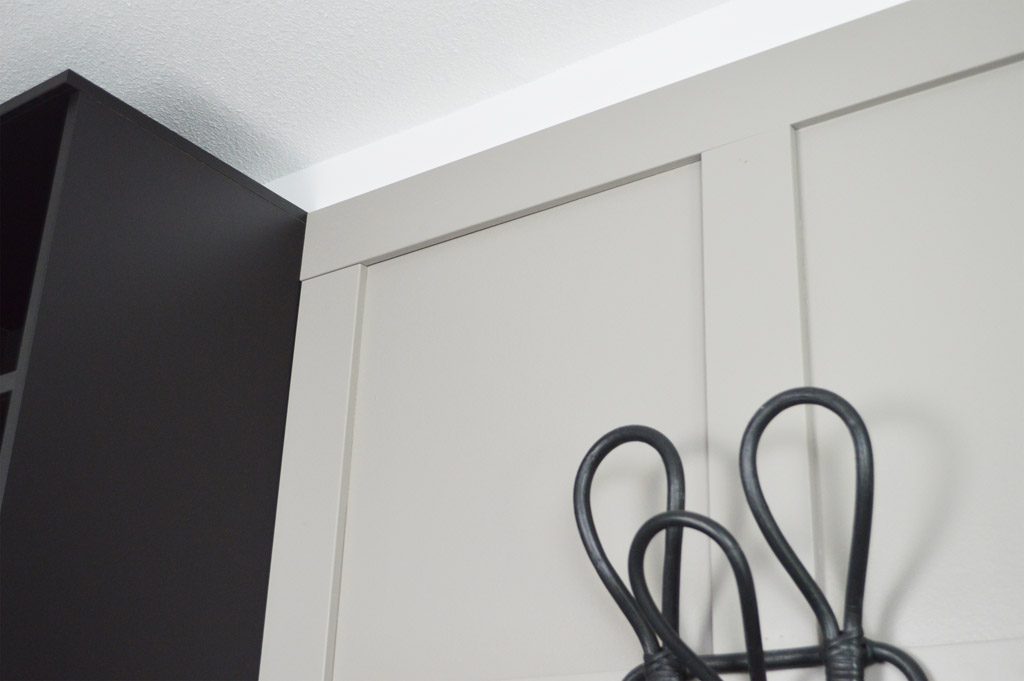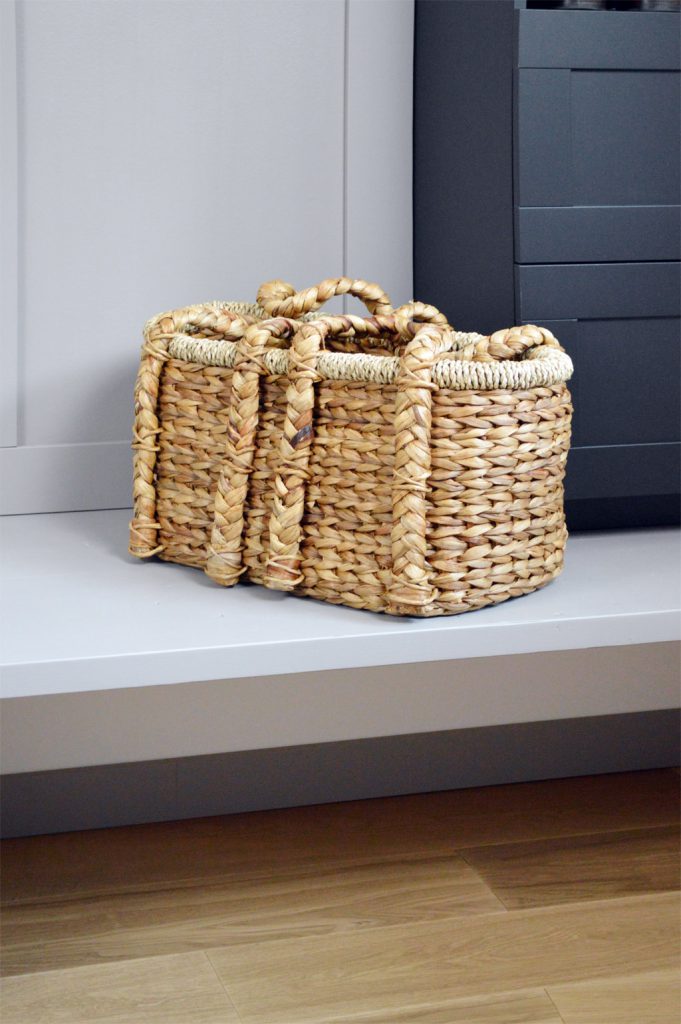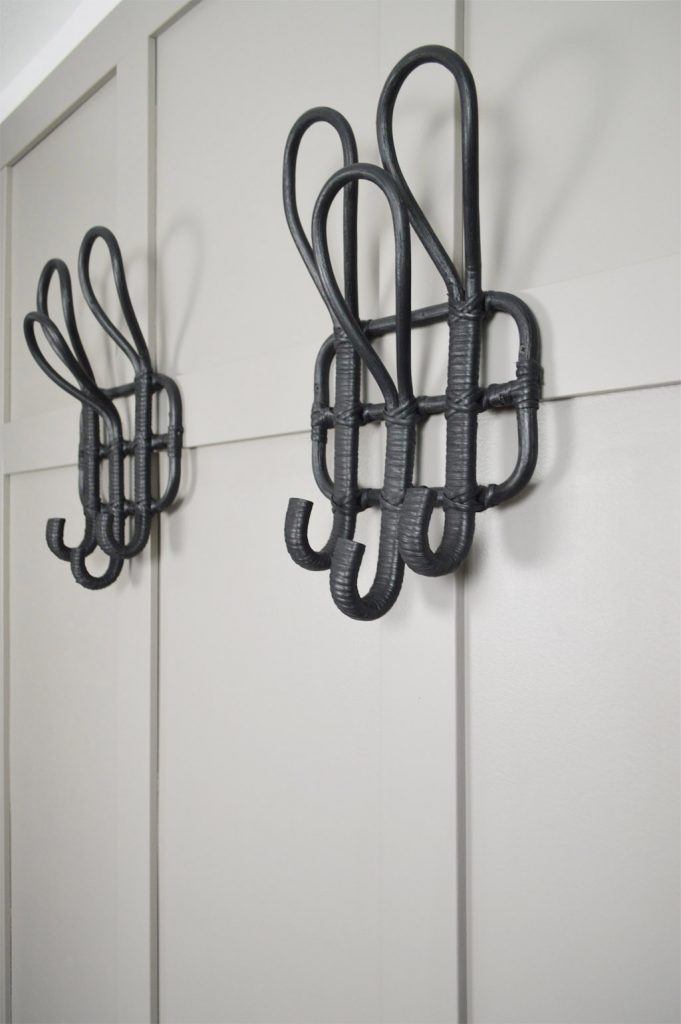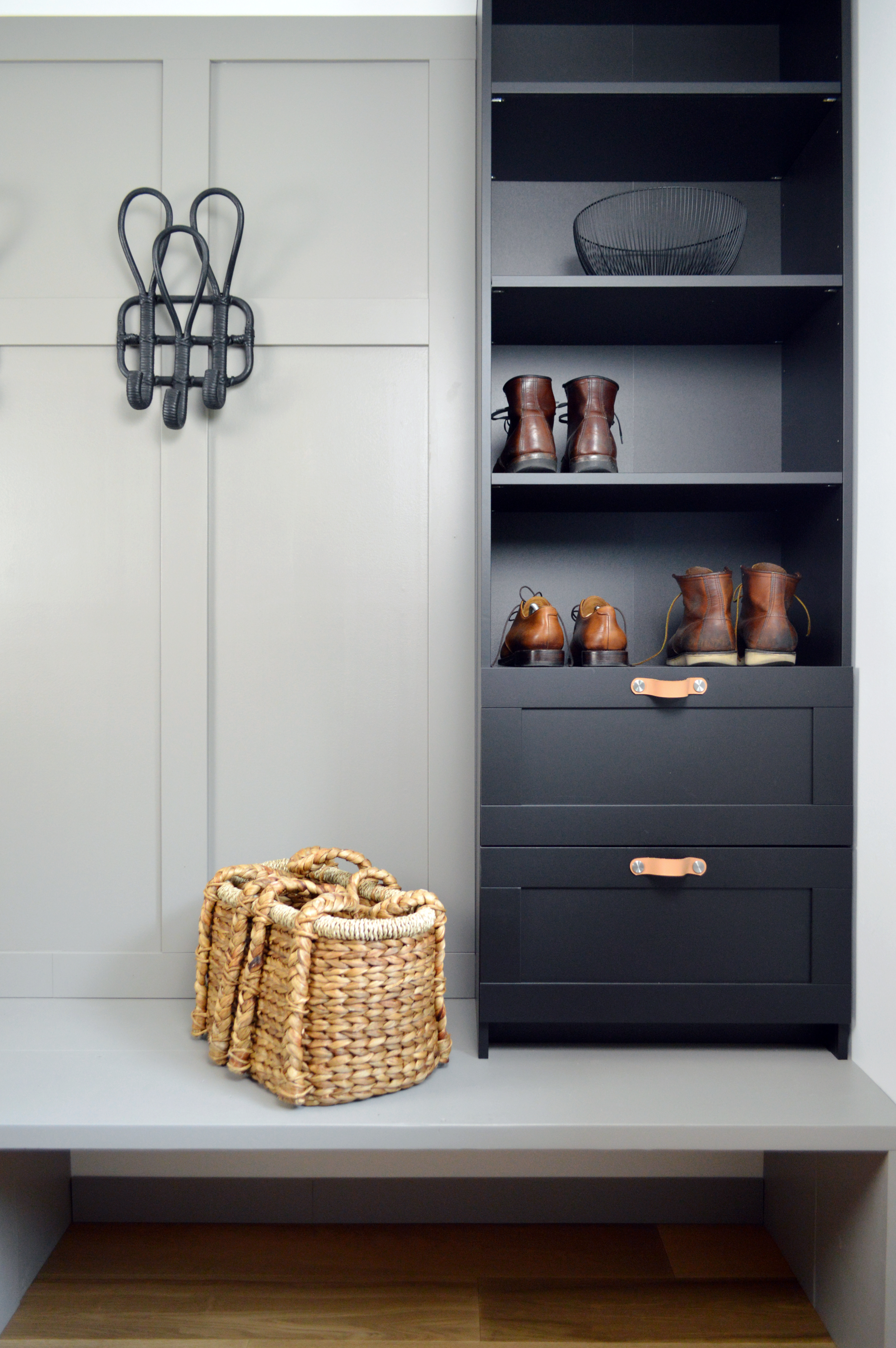 Let me know your tips and tricks to get a custom look!